Progress on the fourth ferry for BC Ferries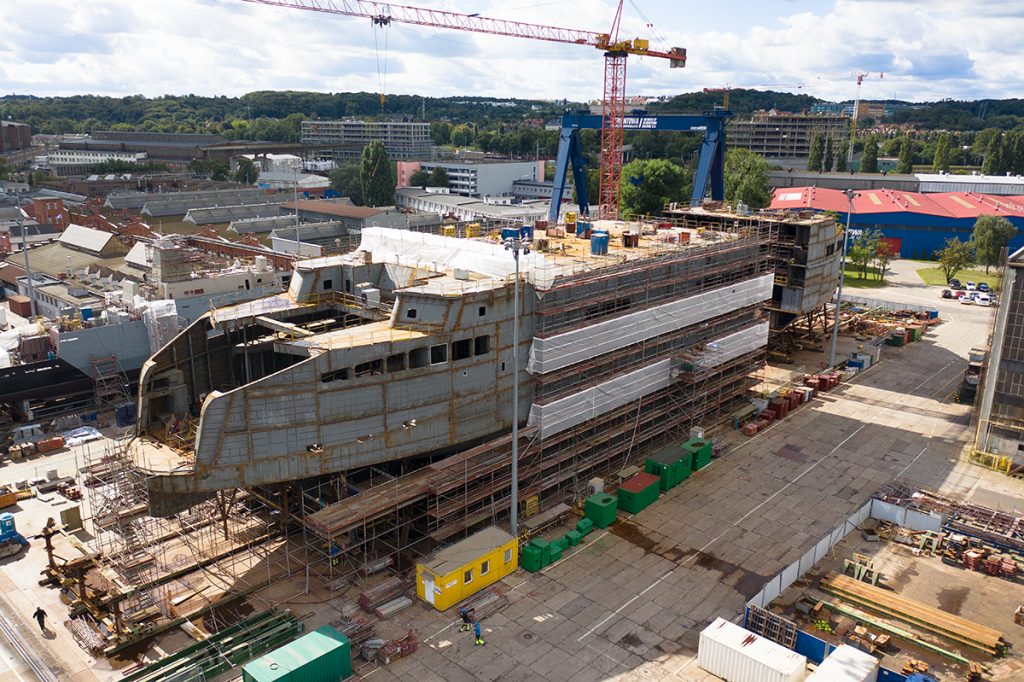 Remontowa Shipbuilding is continuing works on the construction of the fourth "Salish" class ferry in a series of dual-fuel (LNG/Diesel Electric) ships ordered by the Canadian shipowner BC Ferries – the biggest ferry operator in North America and the second largest in the world.
The ferry is being built under the contract signed on November 1, 2019. Despite the difficulties caused by the Covid-19 outbreak, work on the project is progressing as planned. On February 4 this year, a ceremony of the first steel cutting was held to confirm the start of the ship's construction.
The first phase of the project execution – an initial hull prefabrication took less than two months. On March 26th, the keel was laid starting the hull assembly stage.
Today we can see the real shape of the new ferry. Individual sections have been assembled into three separate blocks, which will soon form a complete hull. Two of them were made on a new mounting plate (specially prepared for ships of this size). The assembly of individual sections took place using a gantry crane with a lifting capacity of 300 tons.
The stern block was built by Holm Construction Ltd, which belongs to the Remontowa Holding capital group. Last week it was transported on a pontoon to our shipyard and pulled onto the mounting plate. Immediately upon its arrival, joining the blocks was started.
Parallel to the construction of the hull, prefabrication of the superstructure block was in progress. On September 4, it was transported by a floating sheerleg to the shipyard, where for the next few weeks the outfitting works will be carried out.
During the weekend (5-6 September) the operation of moving the bow block and its connection to the midship block of the ferry took place. Joining the hull blocks, although it is a standard operation, requires precision and experience. It consists of several stages and takes about 3 weeks.
For several weeks now, outfitting works have been carried out on the hull blocks, which will be intensified after the hull is assembled. The hull will be equipped with the necessary systems and devices, which must be installed before launching scheduled for mid-November.
Photos.: Marcin Koszałka, Sławomir Lewandowski / PORTALMORSKI.PL