PGE Baltica at the 14th European Economic Congress
The International Congress Centre in Katowice hosted the largest debate on the future of the European economy in Central Europe on 25-27 April.
The three-day series of debates, meetings and events were attended by, among others, EU Commissioners, Prime Ministers and representatives of European governments, presidents of major companies, scientists, professionals, and decision-makers with a real impact on economic and social life.
On the second day, large investment projects, i.e. offshore wind farms, were discussed in the form of an open public debate. The panel entitled "Offshore" featured Michał J. Kołodziejczyk – President of the Management Board of Equinor Polska, Ireneusz Zyska – Secretary of State, Government Plenipotentiary for Renewable Energy Sources in the Ministry of Climate and Environment, Dariusz Lociński – President of the Management Board of PGE Baltica Sp. z o.o, Anna Łukaszewska-Trzeciakowska – President of the Management Board of Baltic Power, Director of the Offshore Wind Farms Office, PKN ORLEN, Michał Piekarski – Partner at Baker McKenzie, Michael Prutsch – Member of the Management Board of Offshore Ørsted Polska, Development Director Baltics, Grzegorz Strzelczyk – President of the Management Board of LOTOS Petrobaltic and Robert Szczotka – Director of ABB's Propulsion Systems Business in Poland.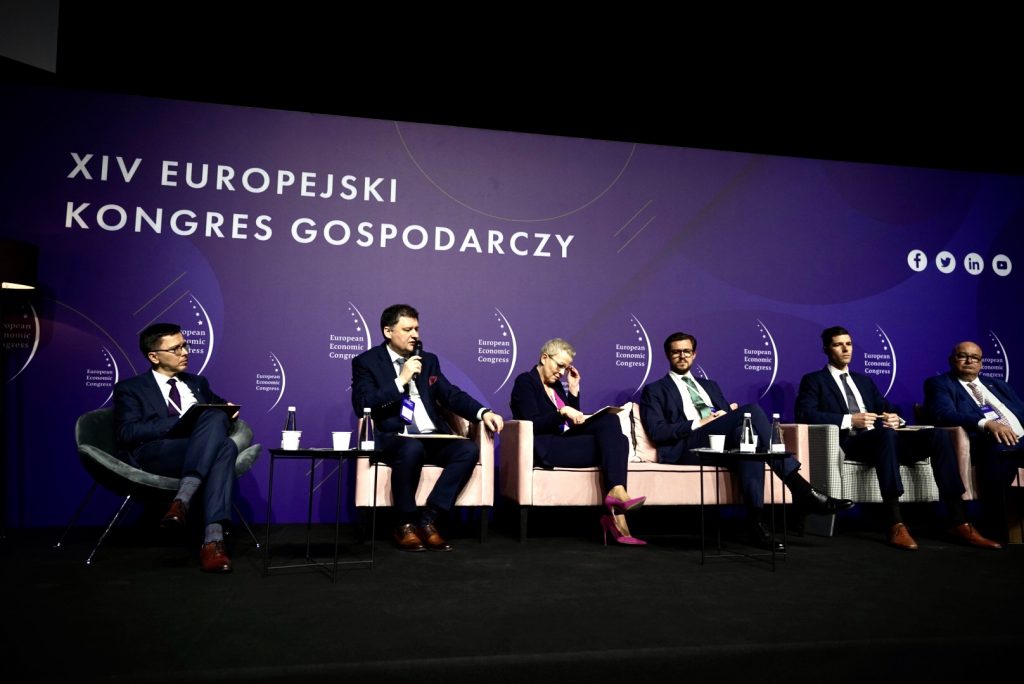 – In two years, we have made huge progress, reflected in the preparation of legislative conditions – both at the level of law and executive regulations, so that offshore wind energy could develop effectively and intensively. We know that these are huge investment projects that require time for planning, research, studies and all environmental approvals necessary to implement such an investment. Apart from all these activities, which are always standard, I think we have done much more – said Minister Ireneusz Zyska.
Last year, on 15 September, after more than a year of work, the "Sector Deal for Offshore Wind Energy Development in Poland" was concluded (Polish Offshore Wind Sector Deal), which supports the development of this sector of the national economy.
– It is the engagement of Polish and foreign partners who have tremendous experience and investment potential. Thanks to this, we are entering a higher level of project implementation. At the same time, the Polish partners are a guarantee of development and strengthening of local content – continued Zyska, adding that the government administration couldn't on its own take up such a big challenge as developing a new sector of the economy.
– This task is carried out in cooperation with and thanks to the involvement of pro publico bono, representatives of Polish companies, foreign companies, the world of science, government administration, business environment organisations and companies financing this sector – concluded Zyska.
The programme of this year's European Economic Congress included scenarios for developing the economic situation following Russia's aggression against Ukraine. President Dariusz Lociński spoke about how the war and the related change of course in climate policy might affect the operations of PGE Baltica.
– According to the currently implemented strategy, we assume that in 2026 the first power from the Baltica 3 project should appear in the system. The commissioning of the Baltica 2 project is scheduled for 2027. Both these stages constitute the Baltica Offshore Wind Farm. We are operating according to the original timetable while at the same time working to reduce any risk resulting from the new macroeconomic and geopolitical situation – said the CEO of PGE Baltica.
Asked how he sees the potential of the Polish industry given the supply chain shortening, he replied: – PGE is already at the stage of procurement proceedings, so we are truly active in this area. Last Friday (22 April), a special virtual meeting organised by PGE and Ørsted took place. It was attended by about 800 participants – representatives of potential suppliers, subcontractors and other entities interested in cooperation in constructing the Baltica Offshore Wind Farm. The event aroused great interest among contractors. From our point of view, even though the macroeconomic and geopolitical situation is very difficult, the market responds to our questions and needs.
PGE wants to create local content for offshore wind energy, which engages Polish scientific thought in cooperation and technology development.
– The Gdansk University of Technology, Gdynia Maritime University and the Polish Academy of Sciences have established cooperation with us. We successfully implement research projects that precede the start of offshore power plant construction. Offshore studies are held under our patronage, and our employees are active lecturers. We educate personnel, hoping that some of them will take advantage of our offer and wish to cooperate with us in the future. We are now preparing to establish a competence centre, as the whole strength lies in the engineering staff, which can implement processes and technical issues effectively – said Dariusz Lociński.
source: PortalMorski.pl