Ørsted and PGE Group contracted cable installation service for their Baltica Offshore Wind Farm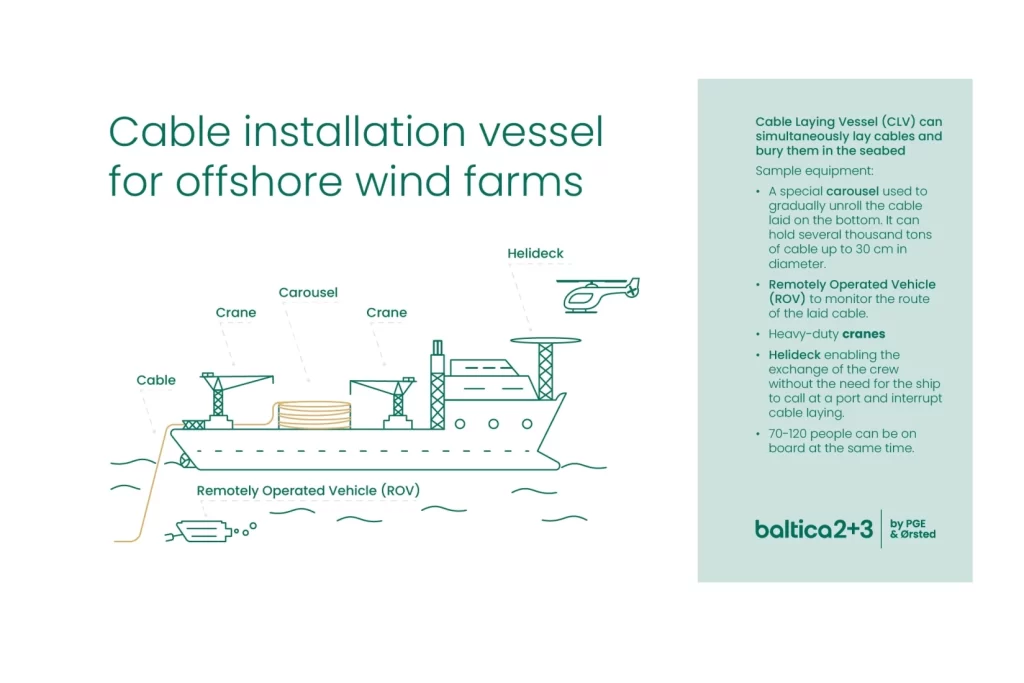 Ørsted and PGE Group signed contracts for laying of the export and array cables for Baltica 2 – one of two stages of the Baltica Offshore Wind Farm. Earlier, they have finalised agreements for the supply of offshore export cables, which will be used to transfer power from offshore wind farms to land.
We are consistently implementing the next stages of the largest renewable energy project in the history of Poland. We have completed the contracting of the most important components for the Baltica 2 stage, including the delivery of 107 turbines, as well as foundations and offshore substations. Now we have moved on to the next phase related to contracting the installation services of particular components. The first effect is the signing of a contract for the installation of cables for the Baltica 2 project with a capacity of 1.5 GW – Wojciech Dąbrowski, President of the Management Board of PGE Polska Grupa Energetyczna.
The chosen contractor for cable installation service is Boskalis. It will mobilize multiple vessels and burial tools to perform cable laying for Baltica 2, including a cable laying vessel and a construction support vessel. Apart from laying and burial of about 300 km of export cables and about 170 km of array cables the contractor's scope also includes boulder removal and seabed preparation works for the cable routes.
Earlier, PGE and Ørsted signed contracts for the supply of marine export cables, which will be delivered by ZTT Submarine Cable & System and Hellenic Cables. Offshore export cables are used to transfer power from offshore wind farms to land. The contracts cover a total of approx. 300 km of 275 kV cables. Established in 1999, ZTT is a leader in the design and manufacture of custom-made marine equipment. In terms of the supply of cables, the company has participated in the construction of over 20 offshore wind farm projects around the world. Hellenic Cables deals with the production of cables, wires, as well as plastic and rubber compounds. Over the last decade, the company has become the largest cable manufacturer in Southeast Europe, exporting to over 50 countries.
The plan for the development of offshore wind energy in Poland assumes that by 2040 offshore wind farms built in the Polish economic zone in the Baltic Sea will be able to supply 18 GW of power to the national power system. This energy must be safely and reliably brought onshore by cables. By signing another important contracts with experienced market players, we are consistently and according to plan moving forward with the Baltica Offshore Wind Farm project, thus improving Poland's energy security – Agata Staniewska, Managing Director of Ørsted Offshore Poland.
Learn more about the Baltica Offshore Wind Farm by visiting