Nor-Shipping 2019 festival of marine technology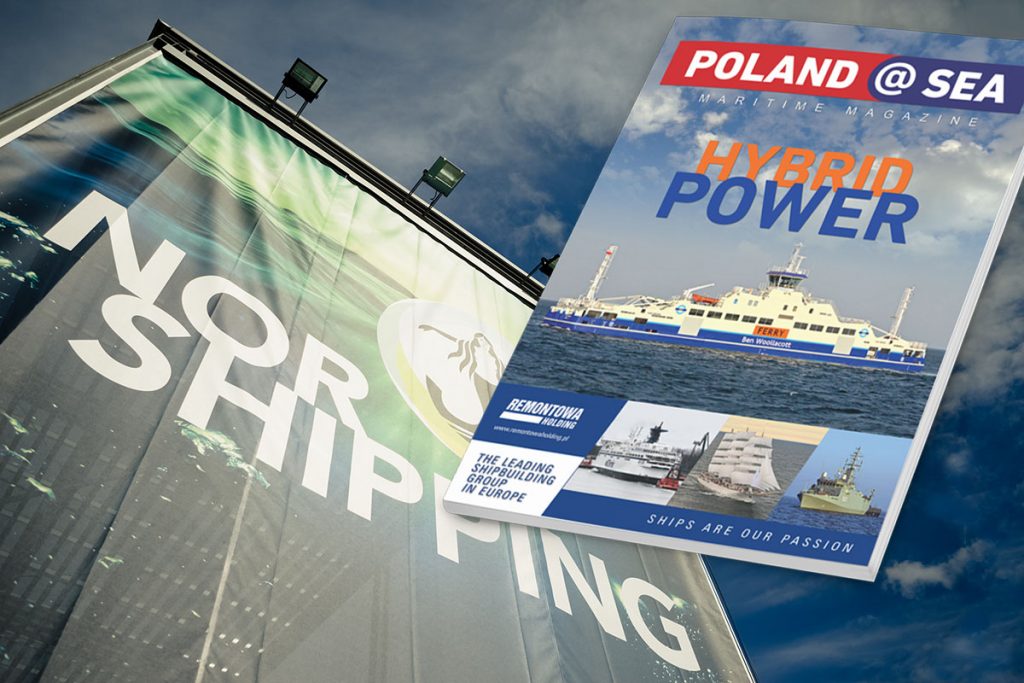 Nor-Shipping 2019 – the festival of marine technology and business time to start
June 04, 2019 rel, PBS
Today, the first day of the next edition of one of the world's largest events in the maritime industry, but with a special emphasis on the shipbuilding industry, lasts until Friday.
With a rich and varied program and 22,500 m² of exhibition space sold, more than 30,000 delegates and visitors will be drawn to Lillestrøm near Oslo from 4 to 7 June. They will participate in networking, learning, watching the competition, looking for customers, services and products, building business opportunities, partnerships and strategies for the future. Among more than 900 exhibitors, as usual, there are also representatives of the Polish maritime industry and technology:
Bohamet SA – hall D, stand D06-29
DOE – Hall E, E04-16
Euro-Weld Sp.j. – Hall D, D06-27
Marine Projects Ltd. – Hall D, D06-31
IAS Gryfia – Hall D, D06-45
Nauta Shiprepair Yard – hall D, D05-18
Nyborg Mawent – Hall C, C05-47
PGZ War Shipyard – Hall D, D05-18
Poltramp Yard SA – Hall D, D06-38
Pres-Kol – hall E, E02-29
PTS-Shipyard – Hall D, D06-26
Remontowa Shipbuilding SA – hall D, D06-37
Repair Shiprepair Yard SA – Hall D, D06-37
Remontowa LNG Systems Sp. z o.o. – Hall D, D06-37
Remontowa Holding – hall D, D06-37
Gdansk Shipyard and Baltic Operator – Hall D, D01-31
One of the carrier forms of promotion of Polish economy and maritime technology is an English-language industry publication "Poland at Sea" distributed during this year's fair, and our publishing house is one of their media partners.
Per Martin Tanggaard, Nor-Shipping Director, emphasizes: "For the first time Nor-Shipping filled the entire exhibition halls in a new place, where the move from Oslo to Oslo takes place several years ago. "We firmly believe that we have something for everyone who is interested in doing business at sea or in relation to the sea.
Nor-Shipping 2019 consists of more than 900 exhibitors from all over the world, with 20 different national pavilions.
Worldwide development thought leaders will open the programme at the Ocean Leadership Conference on 4 June, while an important presentation and provocative debate can be expected in the Ocean Stage GNI programme, the regional Nor-Shipping events "@". (focusing on Africa, Asia and Brazil) and technical seminars spread over the entire duration of the trade fair (all in Lillestrøm).
The elite list of speakers and participants of the Ocean Leadership conference includes Among others, Lise Kingo, Executive Director of the UN Global Compact, Remi Eriksen, CEO, DNV GL, Ann-Christin Andersen, Technical Director of the Technical Offshore Service Tycoon and TechnipFMC subsea, Geir Håøy, CEO of Kongsberg, which recently absorbed the maritime part of Rolls-Royce, Norwegian Prime Minister Erna Solberg, Kitack Lim, IMO Secretary General, Nobel Prize winner (economics) Paul M. Romer, Admiral Michael Rogers, former Director of the National Security Agency (NSA).
The Blue Economy Hall will bring together a diverse range of players from the industry, presenting today's "tomorrow's solutions", and Blue Talks offers hope for an unforgettable insight into innovations, ideas and ambitions," the organisers of the fair encourage.
In the centre and on the Oslo waterfront, Festival Street is to be "a social centre for culinary delights, drinks, relaxation and networking", while Ocean Now builds bridges between start-ups, students and established industry players. Other important events include the renowned DNV GL BBQ event, the WISTA Waves of Change conference and the UNGC High Level on Ocean (hosted by Norwegian Prime Minister Erna Solberg).
On Tuesday, the results of the Norwegian "ship of the year" competition organized by the professional periodical "Skipsrevyen" will be announced.
Interestingly, at this type of fair a lot is said about the protection of the marine environment and presents equipment, systems and procedures, including certification, to achieve the objectives in this area, and this time the fair itself, as the first among similar events, will receive the certificate of quality assurance system in environmental issues ISO 20121 (The Sustainable Events Management System Standard for Events Organisations).