Miner divers from the 8th Flotilla in an exercise in the Black Sea
Sailors from the 8th Coastal Defence Flotilla in Świnoujście, including the Miner Divers Group, are participating as experts in the Sea Breeze 2021 exercise in the Black Sea, Flotilla spokesman Cpl. Grzegorz Lewandowski said on Tuesday.
Sea Breeze is an annual exercise organized by the United States and Ukraine since 1997, in this year's edition 32 countries participate, which have assigned 32 ships, 40 aircraft, 18 special units and diving teams – a total of nearly 5,000 soldiers.
Seven sailors representing the 8th Coastal Defence Flotilla from Swinoujscie participate in the exercise. The Miner Divers Group, whose soldiers during the exercise act as experts on neutralising explosive and dangerous objects, takes part in the activities.
As the spokesman stressed, an important element of the exercise is to unify the planning and command process in accordance with NATO standards and to increase the level of interoperability between the armed forces of Ukraine and NATO countries, mainly from the Black Sea basin.
The exercise combines activities of maritime, land and air components. The aim of the exercise is to raise the interoperability capabilities of all types of armed forces to ensure maritime security and peace in the Black Sea basin region.
Officers who are involved in the so-called mentoring project have been invited to this year's edition. Their task is to support Ukrainian soldiers in preparing and conducting the exercise in accordance with NATO standards. Polish officers participated in planning the operations of exercising forces, supporting operational officers of the Joint Operation Centre staff.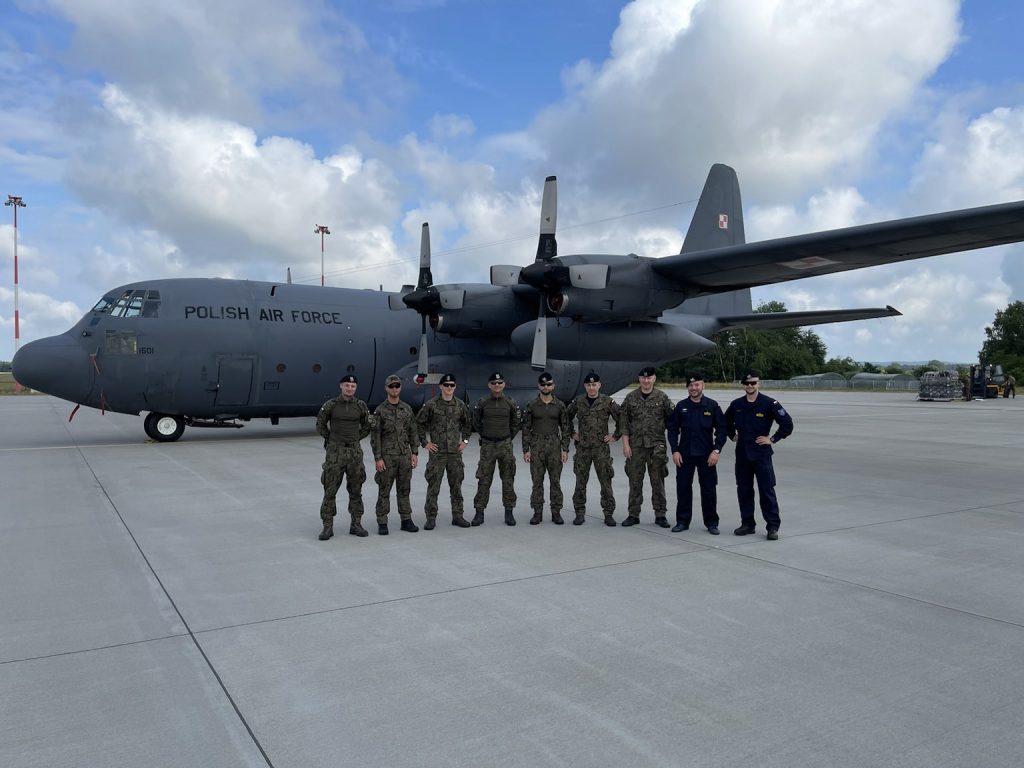 Mariners of the Divers' Group act as experts in neutralising explosive and dangerous objects. They carry out practical activities in the field of searching for objects using various methods, including underwater sonar; checking of quays and underwater parts of hulls of vessels; searching, identification and neutralisation of explosive and dangerous objects; counteracting improvised explosive devices (IEDs).
Polish sailors also conduct training in neutralization of explosive and dangerous objects for EOD (explosive ordnance disposal) teams from countries participating in the exercise, presenting conclusions and experience gained in recent years while using the method of deflagration – burning of explosive material. Specialists from the 8th Flotilla used it in October last year while neutralising a British Tallboy aerial bomb on the bottom of the Piastowski Channel in Świnoujście – probably the largest unexploded bomb found in Poland after World War II.
The exercise, which began on 28 June, will last until 10 July. This year's edition of Sea Breeze is attended by soldiers from Albania, Australia, Brazil, Bulgaria, Denmark, Egypt, Estonia, France, Greece, Georgia, Spain, Israel, Japan, Canada, South Korea, Lithuania, Latvia, Morocco, Moldova, Norway, Pakistan, Poland, Romania, Senegal, USA, Sweden, Tunisia, Turkey, Ukraine, United Arab Emirates, Great Britain and Italy. One of the tasks in which Polish divers are participating is the removal of the wreck of a USSR-era yacht that sank in 2016 in Odessa harbour.
rel. PortalMorski.pl