Liebherr crane will increase operations at Port of Gdansk Eksploatacja SA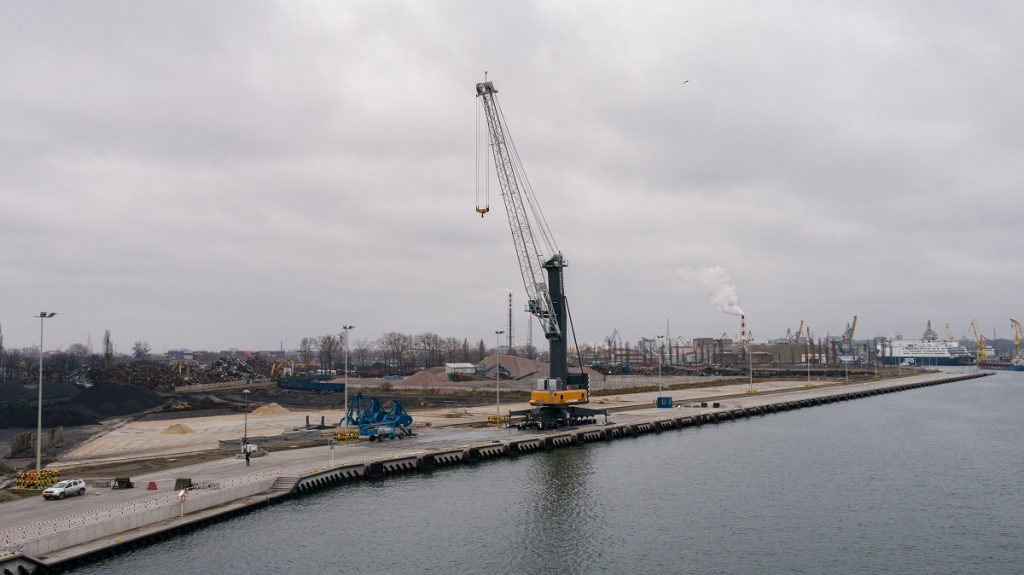 This is the largest investment in equipment of this format at Port Gdański Eksploatacja SA in 30 years. The Liebherr LHM 550 mobile harbour crane, one of the largest in its class, has arrived from the factory in Rostock.
The three-hundredth anniversary model of the Liebherr LHM 550 crane is already at work at Dworzec Drzewny quay. The spectacular machine has 72 wheels, is fully mobile and will significantly contribute to the operability of the work at the company, which has a total area of 89 hectares at its disposal, including five kilometres of quays located in the Inner Port of Gdansk.
The Liebherr LHM 550 crane is a mobile machine that can move to designated working areas along the Ore Quay and Wood Station. The machine handles loads such as coal, coke and scrap metal. The speed of operations will undoubtedly be improved, which in turn will affect the handling rate. As a result, customers can count on significantly faster service of contracted units. The equipment already carries out transhipment operations at the Ore Quay and the Dworzec Drzewny Quay.
The investment was possible thanks to financing from the Industrial Development Agency. The value of the crane is almost PLN 18 million.
The company was actively investing in 2021. The total value of investments in infrastructure and suprastructure in 2021 is over PLN 32 million. The purchases included two Volvo L260H loaders, a Liebherr LH40m long-arm yard excavator, a Loco-tractor 9C 160 Orion to improve safety in terms of manoeuvring and fast movement between quays.
The company has also upgraded the transhipment site within the area covering the Mining Basin.
source: PortalMorski.pl