Giant rubber wheeled gantry crane arrived at Remontowa Shipbuilding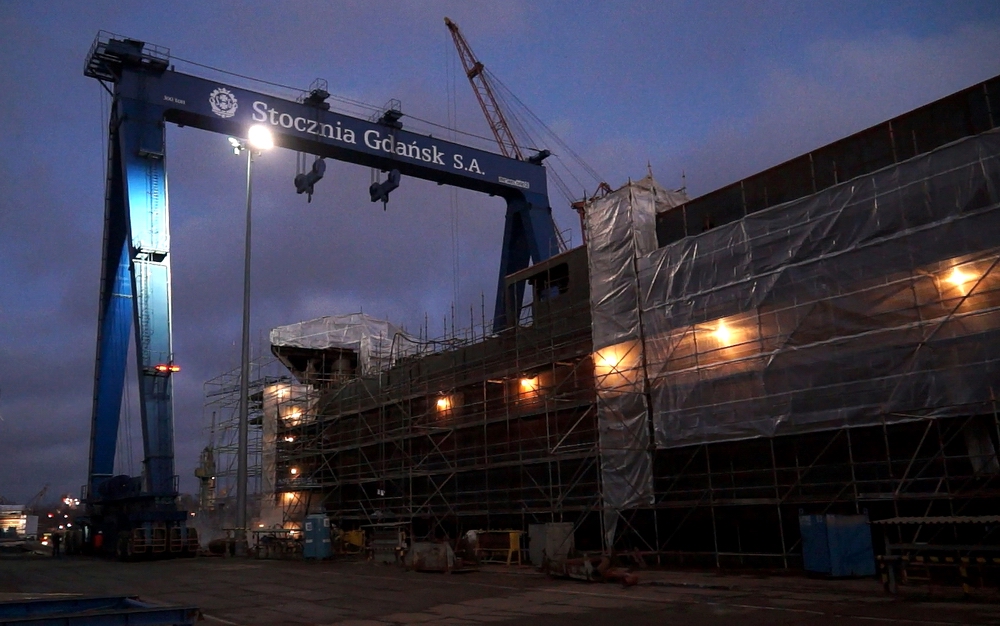 Remontowa Shipbuilding has acquired a significant piece of equipment enhancing its production capabilities and efficiency.
On 10 February 2015, the recently purchased rubber wheeled 300 t SWL gantry crane has been transported on a heavy lift barge-pontoon Maritim Shipyard I from its first area of deployment and former owners (Gdansk Shipyard) to the Remontowa Shipbuilding's facilities. The gantry crane was rolled from the floating barge onto the hull assembly area adjacent to the quay at Remontowa Shipbuilding.
The newly acquired giant rubber tired gantry crane (Mobilift TE/300 type) was custom-built and supplied by Michielotto Group of Cittadella-Padova to Gdansk Shipyard in 2011.
It's a single beam gantry crane conceived for handling full hulls and sections within a shipyard. It is built with two hook trolleys boasting 150 tons capacity each (300 tons in tandem), hydraulically driven, except the two hook trolleys' electrical drive, which can either operate in pairs or individually. Main beam is 30 x 25 x 40.2 m, inner breadth is 34.2 m, gauge is 35.4 m, thread between the two wheels is 16 m and height under beam is 32.4 m. The gantry crane has 4 groups with 8 wheels each (32 in total), 16 of which are driving wheels and located on the front side, allowing +/- 20 degrees rotation of the vehicle.
A hydraulic shock absorption system stabilizes the crane even on unsmoothed ground. Materials and components were chosen considering a temperature ranging from -20°C + 40 °C, while painting included sandblasting and 4 layers of paint (250 µm thickness) so as to prevent marine corrosion.