On December 26, 2022, the Registre International Français (RIF), also known as the French International Shipregister (FIS), announced that the fleet belonging to the registry had surpassed 400 French-flagged vessels in the previous week. Both vessels associated with this fleet size threshold have links to Poland.
RIF is the second (operating alongside the French national flag registry) ship registry open to foreign or foreign-invested entities. New vessels were added to RIF in the past week, bringing the grouped tonnage to over 400.
On Wednesday, December 21, the 174,000 cubic metres capacity LNG carrier Lech Kaczyński, handed over to Knutsen LNG France after completion at South Korean shipyard Ulsan and chartered by PGNiG / PKN Orlen, was registered with the RIF. She is the fourth LNG carrier to join the RIF in 2022 and is also vessel No. 400 (as we confirmed in correspondence with the RIF) under the French flag within the French open register.
In response to a query from PortalMorski.pl, we were assured that: "The RIF office paid particular attention to keeping the Polish notation of these names [of the ships Lech Kaczyński and Grażyna Gęsicka] under the French flag."
This is an unusual, probably even precedent-setting situation since, as a rule, the names of ships in a register under the flag of a particular state can only be written in the language of that state.
On Thursday, December 22, unit 401, the ro-ro vessel with auxiliary sail propulsion Canopée, was registered with the RIF. This 121-metre vessel, owned by Jifmar Guyane, has been chartered by Alizés to transport Ariane 6 (ArianeGroup) rockets from Europe to its launch base in Kourou (French Guiana).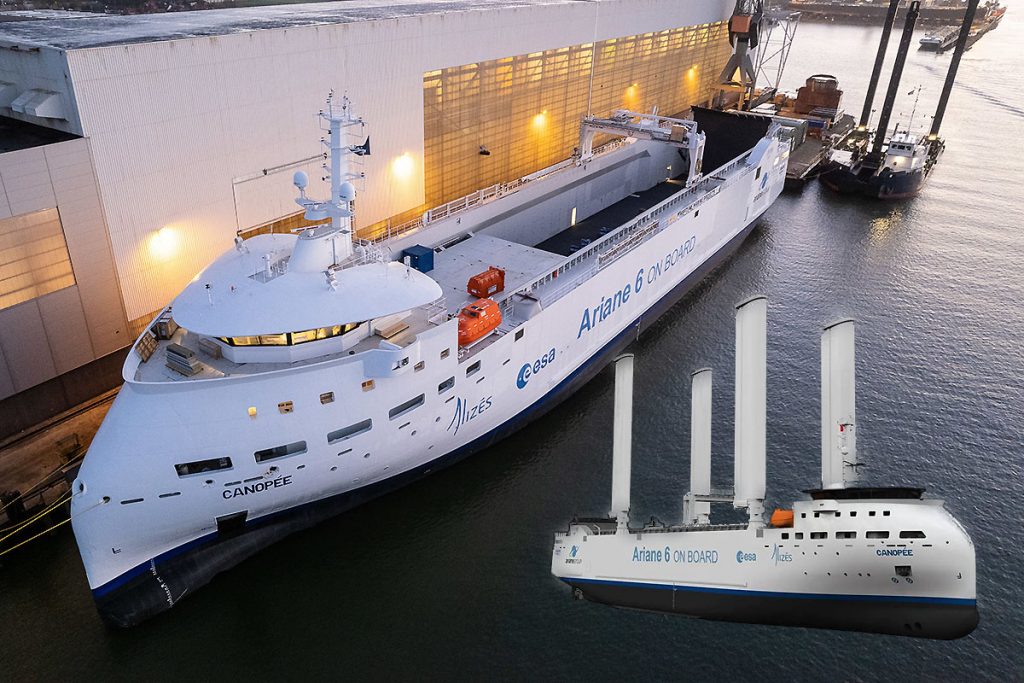 The Canopée will be equipped with four Oceanwings (rigid folding sail panels) to reduce fuel consumption by 30 per cent thanks to wind power.
"Under the RIF, the French fleet has the wind in its sails and participates in the decarbonisation of maritime transport," – wrote the RIF's official communiqué. The partially equipped vessel was built in Poland at the Partner Shipyard near Szczecin.
The gas carrier Lech Kaczyński left the Hyundai Heavy Industries shipyard in Ulsan on 22 December and headed to Gwangyang LNG Terminal in the South Korean port of Yosu, where it received (on 23-25 December) a small amount of liquefied natural gas for additional cooling of the cargo system (the so-called coolant).
Currently, the vessel does not disclose its final destination in AIS. It is headed to Singapore for the time being, in the region of which it is expected to be on 1 January 2023 (perhaps to take fuel there).
Z koreańskiego Ulsan w pierwszy rejs ruszy gazowiec, który będzie dostarczał LNG do Polski. Pierwsze zadanie załogi to schłodzenie zbiorników do -130 °C, by przygotować je na przyjęcie ładunku. Łącznie naszą flotę zasili 8 takich gazowców, uzupełniających dostawy #BalticPipe pic.twitter.com/XQZiO534Ka

— ORLEN (@PKN_ORLEN) December 28, 2022
source: PortalMorski.pl