First shipment of US oil to Lotos arrives in Gdańsk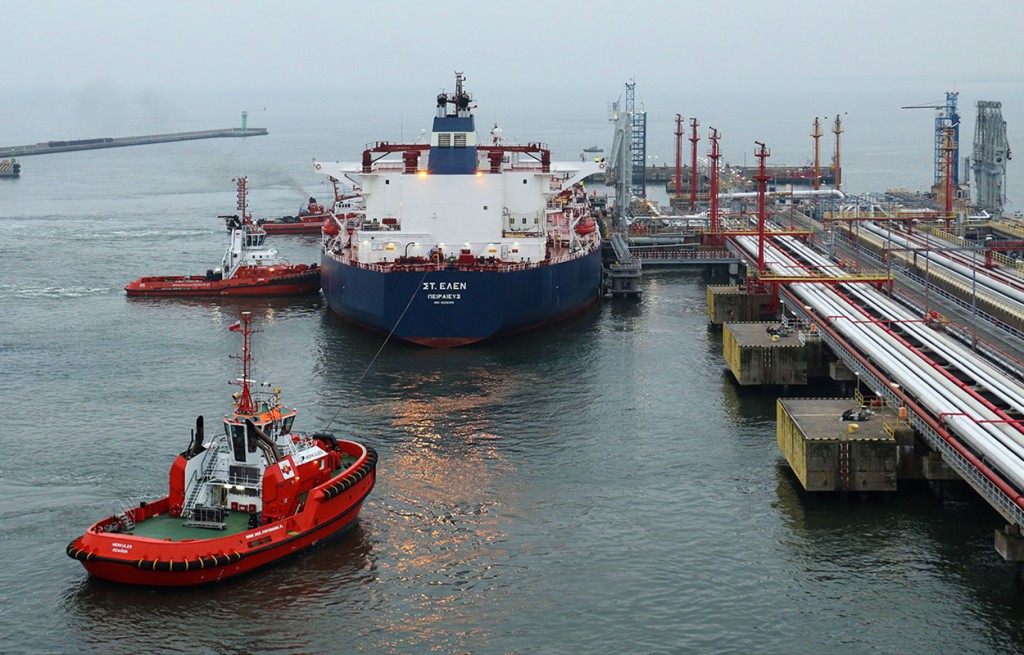 St. Helen, a Greek aframax tanker carrying 600 thousand barrels (approximately 80 thousand tonnes) of Domestic Sweet (DSW) crude oil from the US, arrived November 9, 2017, at the Gdańsk oil terminal Naftoport. This is another purchase made by Lotos, but the first ever imported from the US as part of the Company's consistently implemented strategy to diversify feedstock supply sources. 
A load of 600 thousand oil barrels would fill more than three thousand road tankers, which would make a 30 km-long chain of vehicles.
The tanker St. Helen is 244 m long and its deadweight tonnage is 105.5 thousand tonnes. It was built in 2002 in South Korean shipyard Samho Heavy Industries (currently Hyundai Samho Heavy Industries).
On its route from Freeport to Gdańsk, the tanker covered 5.5 thousand nautical miles (over 10 thousand km), a quarter of the equator length.
Domestic Sweet (DSW) is a blended crude with a vacuum residue content two times lower than REBCO, containing more gasoline fractions than Polish light crude types, such as Rozewie and PGNiG.
"Diversification is one of Lotos' priorities, set in our strategy for 2017-2022, which we are consistently pursuing, as best shown by today's delivery," emphasised Marcin Jastrzębski, president of the Grupa Lotos management board. "This is the first, but not the last purchase of US oil for the Gdańsk refinery. In each case, a decision to buy a particular crude is prompted by process efficiency and economic viability," he added.
The tanker St. Helen left Freeport, Texas, off the Gulf of Mexico, on October 19th 2017. For Grupa Lotos, its oil cargo is the first one arriving from the United States, but not the first one from the American continent – in September, the Company imported nearly 700 thousand barrels of Hibernia oil from Canada.
"Domestic Sweet is a light, low-sulfur crude, with many gasoline fractions and little vacuum residue. It is very well suited to our winter needs given its low content of heavy fractions, while ensuring excellent economic benefits," explained Jarosław Kawula, vice president of the Grupa Lotos management board, chief refining officer. "We are taking consistent steps to expand the mix of crudes processed at our refinery, which is particularly important in the context of the EFRA Project coming on stream next year, which will give us greater crude slate flexibility . The more we know about different crude grades, the sooner will we be able to derive benefits from the EFRA Project."
Each crude type is examined by Lotos in several stages. First, it is analysed based on the producer-supplied assays. When oil arrives physically at the refinery, its sample is taken to the modern laboratory of Lotos Lab , the Group's R&D centre and generator of innovative projects. Lotos Lab's specialist equipment for complex oil analysis makes it possible to precisely examine the properties of a given blend of fractions, which determine the performance of key production units. Importantly, the modern laboratory enables an objective comparison of different crude types under identical external conditions.
Lotos is consistently pursuing its strategy to diversify feedstock supplies. Currently, every fifth barrel of oil processed by the Gdańsk refinery is imported from sources other than markets east of Poland. In September, for the first time in the Company's 40-year history, oil was imported from Canada. Previously, Lotos had also tested crudes from Iran, Saudi Arabia, Latin America, as well as North and West Africa. All these efforts are part of strategic initiatives to enhance Poland's energy security.
With access to the sea, Lotos is able to take a flexible approach and purchase a wide range of crude grades from across the world. Before a new type of crude is bought, the Technology Office's experts analyse its characteristics to establish if its processing would be viable in the current market environment. It is not only about the price, but also about the yield of high-margin products that can be obtained. Lotos' crude portfolio comprises nearly 200 types of crude oil tested at the Gdańsk refinery, but the number is growing steadily.
The ability to process a wide range of crude grades is only characteristic of the most advanced refineries, like the one operated by Grupa Lotos. Following several upgrades, the Gdańsk refinery is now capable of processing a greater number of crude types imported under spot contracts. This flexibility will be further improved by the EFRA Project, worth more than PLN 2.3bn. Now at its final stage, it will allow the Company to reduce its output of heavy fuel oil, while increasing the yield of high-margin products by more than 900 thousand tonnes, with an extra margin of some USD 2 per barrel.
rel (Lotos)