First ever commercial cruise on the Vistula River with a cargo of containers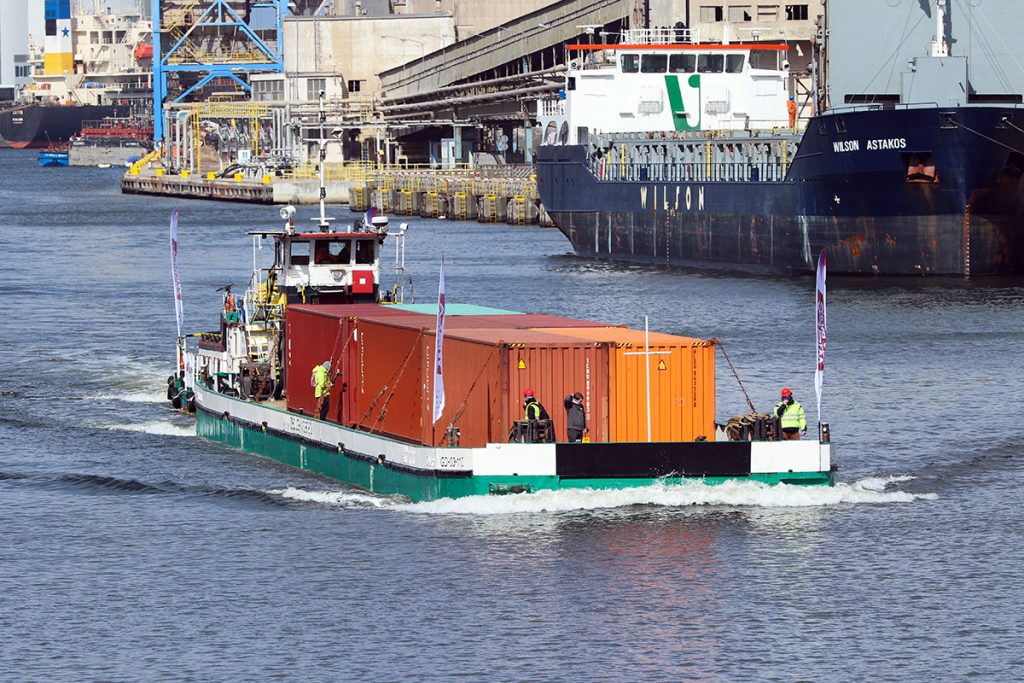 On Tuesday, April 6, the first-ever voyage with cargo for Kujawsko-Pomorskie manufacturing companies set off from the seaport in Gdansk. Six forty-foot containers, containing over 300 tonnes of goods, will reach Chełmno on Thursday, 8 April, where they will be reloaded onto trucks and then the barge will be reloaded and return to the Coast.
The aim of the cruise is mainly to promote inland waterway transport as the most economical, safe and environmentally friendly mode of transport and to raise awareness of inland waterway services among entrepreneurs and shipping companies. It is important to draw attention to the benefits of building a logistics hub in Bydgoszcz, using, among other things, the potential of waterways.
– The geographical location of our region, where two international waterways intersect, provides great opportunities for development, so as a voivodeship we are particularly interested in activities aimed at revitalising the lower Vistula and launching its economic potential while respecting the natural environment. I hope that this first commercial cruise will prove how efficiently and effectively alternative modes of transport can be used – says Marshal Piotr Całbecki.
A river set consisting of a pusher and a barge loaded with six 40-foot containers departed from the container terminal at the Szczecin quay a few minutes after 1 p.m. taking a course for the Przegalin lock. A night technical break is planned in the vicinity of Tczew. The vessel will reach the transshipment point in Chełmno, via a 152-kilometre-long section of the Vistula River, on Thursday, 8 April. At the quay the cargo will be unloaded on trucks and export containers will be put on the barge. The return to Gdansk is planned for 9 April.
The operator of the voyage chosen by the voivodeship self-government is the VAN cargo SA company based in Warsaw. The expedition also has a research aspect. The cruise will be accompanied by a boat of the Regional Water Management Board in Gdansk on board with a researcher from Kazimierz Wielki University in Bydgoszcz and a student majoring in the revitalization of waterways, from which research on the waterway will be conducted. During transport, navigational markings will be checked to determine the course of the trail, the capacity of the waterway and the location of difficult and troublesome places for navigation on this section of the Vistula.
rel. PortalMorski.pl