Ferry converted to LNG propulsion at Remontowa SA arrives in Canada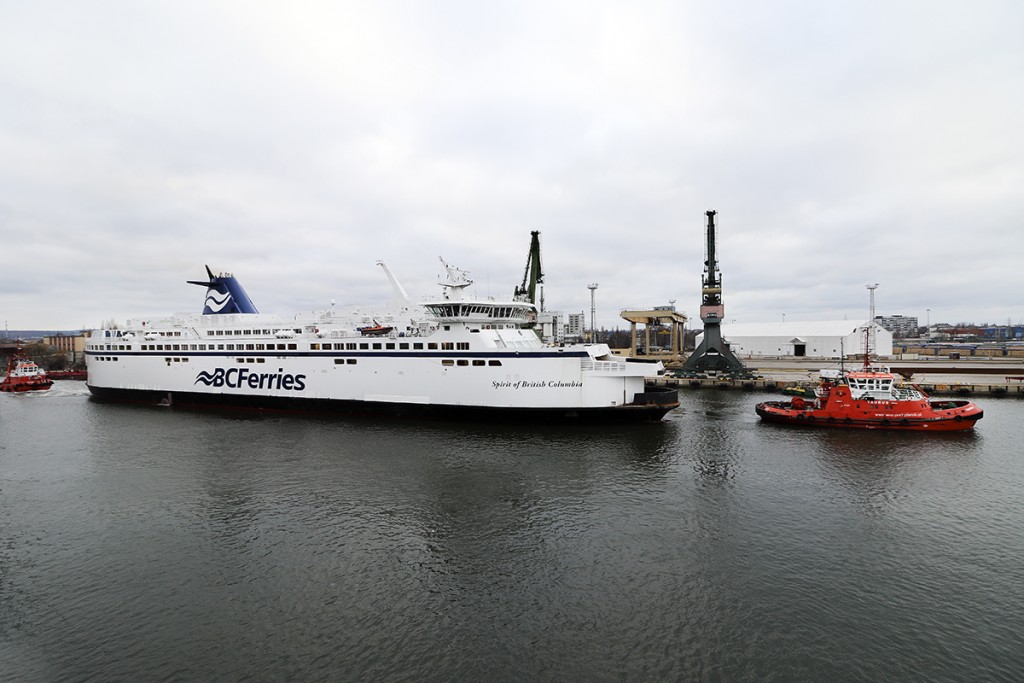 After a spectacular conversion at Remontowa Shiprepair Yard SA in Gdansk, Poland, the Spirit of British Columbia ferry, belonging to the largest ferry operator in North America – BC Ferries – set out on March 27th across the North European waters and Atlantic to Richmond, where it arrived on May 6.
According to the contract signed in 2016 to perform the "mid-life upgrade" of the "Spirit" class – Spirit of British Columbia and Spirit of Vancouver Island ferries, Remontowa SA converted propulsion system of the first ship from traditional diesel based to environmentally friendly, powered by liquefied natural gas. Currently, the ship's engine room is dual fuel, adapted to be fed both with low-sulfur diesel and natural gas (stored as LNG), with the latter being the main fuel.
The shipyard equipped the Spirit of British Columbia with four new dual-fuel Wärtsilä 8L34DF main engines with an output of 4000 kW each and a cryogenic tank with a capacity of 165 cubic meters. The replacement of main engines also involved the replacement of automation systems, control systems, fuel feed system and, among others, two main reduction gears and other devices. Electrical, remote control and monitoring systems were modernized, navigation equipment was renovated and modernized.
In addition to the rebuilding of the engine room, passenger spaces have also been modernized. The bathrooms in the cabins were renovated and a new café was built on one of the decks. The shipyard also carried out a full range of maintenance and painting works – from the keel to the funnel stack.
The design of the ferry conversion has been prepared by the Remontowa Marine Design & Consulting ship design office. The bunkering stations installed on the ship allow this operation to be performed both from the outside of the unit and from the deck (road tanker on a ro-ro deck).
The last refueling of the LNG ferry in Poland before the Atlantic trip took place at Remontowa SA in Gdansk, 28 March 2018. It was carried out by the companies belonging to PGNiG and LOTOS Group using the "truck to ship" method, i.e. directly from cryogenic tankers at the jetty quay to the ferry tank. The volume of transferred fuel was 55 tons. The second refueling was on the Canary Islands.