EPG delivered second module for Johan Sverdrup field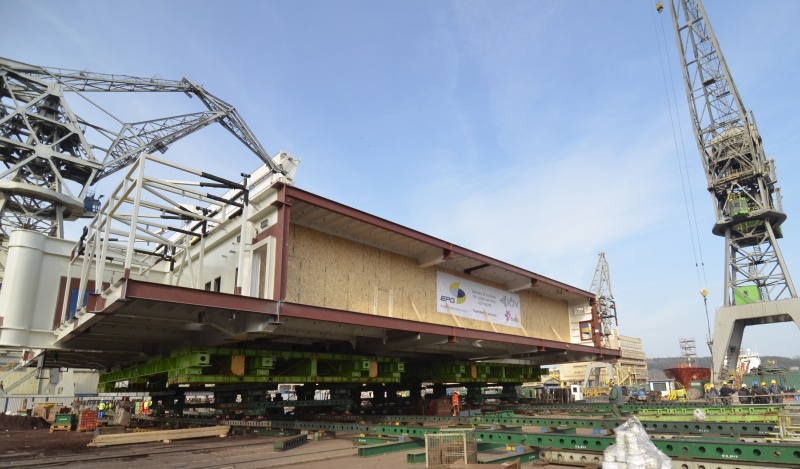 On 14th and 15th March 2017 loading of  elements for living quarters for Johan Sverdrup field took place at the quay of Energomontaż-Północ Gdynia. Subsequently heavy load carrier Meri left Gdynia to deliver the structure to the contractual partner. EPG is performing this contract for consortium K2JV. Structure fabricated at EPG weighs about 800 t and measures 35 × 45 m.  The structure has been placed onboard heavy load carrier Meri with use of hydraulic skidding system.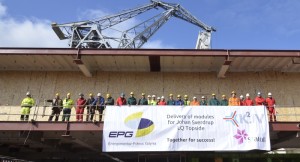 – A few weeks earlier EPG delivered first module and further elements (with weight c.a. 1,000 t) for Johan Sverdrup project are under construction in EPG currently. Dispatch of third module is planned for May 2017 – said Bartłomiej Kwiatek, project manager. According to the contract with consortium K2JV ANS (joint venture of Kvaerner Stord and Kellog Brown & Root) Energomontaż-Północ Gdynia (EPG) will fabricate more than 2,800 t of steel structures for that offshore development project.
Johan Sverdrup is the oil field in the North Sea, about 140 kilometers West of Stavanger. The field is one of five largest oil fields in Norwegian Continental Shelf (NCS). Daily production during first phase is estimated at 440,000 barrels per day, while peak production estimated to reach 660,000 barrels daily. Peak production will be equivalent to 40% of all NCS petroleum production.
rel (EPG)
photos: EPG