Construction of T3 Baltic Hub deep-water quay in Gdansk begins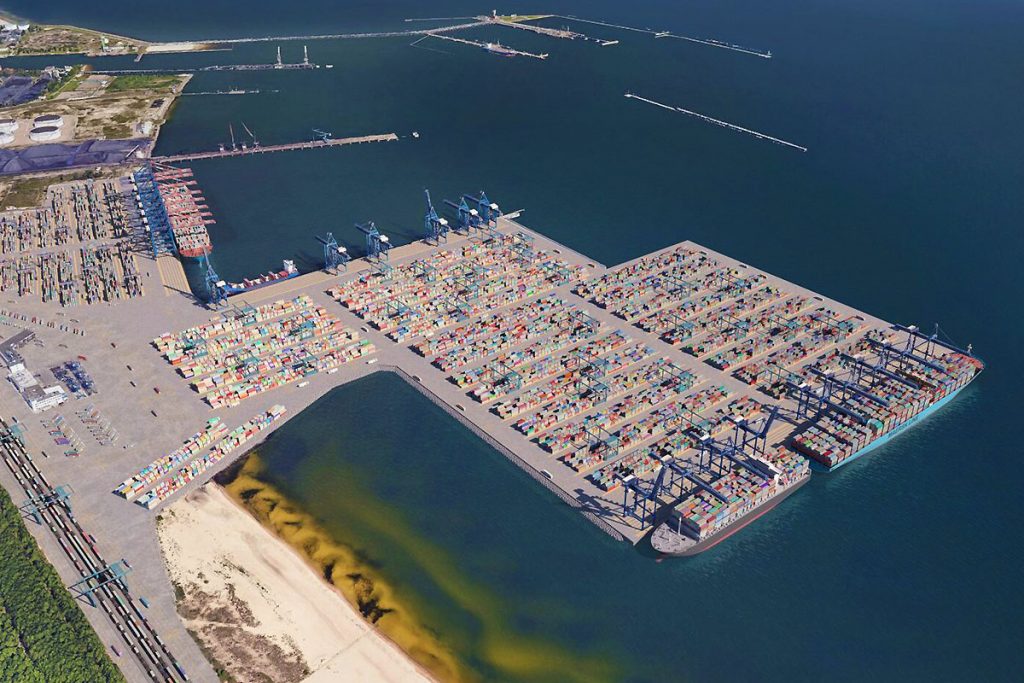 Construction of the T3 Baltic Hub deep-water quay in Gdansk will start on Monday. T3 will include a 717m-long, 17.5m-deep deepwater quay and a 36.5ha site.
Baltic Hub Marketing and Communications Coordinator Magdalena Jagła said that Baltic Hub representatives, still as DCT Gdansk – the operator of the largest container terminal in the Baltic Sea – signed a contract with a consortium of Budimex S.A. and Dredging International NV for the construction of the third deep-water quay – the so-called T3 – in the summer of this year.
"As part of T3, a deep-water quay with a length of 717m, a depth of 17.5m and a yard of 36.5ha will be built. In addition, seven quay cranes, capable of loading and unloading the largest ships in the world, and 20 semi-automatic RMG cranes, operating in the container yard, are to be purchased," – Jagla informed.
Once completed, the T3 Baltic Hub will be able to handle a new generation of container ships arriving in the Baltic Sea, reducing shipping distances for feeder ships and providing Polish and regional shippers with more connections worldwide.
T3 is scheduled to open for commercial operations at the end of the first half of 2024, with full project completion in the second quarter of 2025. In the first phase, the new terminal will increase the Baltic Hub's handling capacity by 1.7 million TEUs, to 4.5 million TEUs (20-foot containers) per year.
The Baltic Hub, which was launched in 2007 under the name DCT Gdansk, has the capacity to handle up to 3 million TEUs per year. The total length of the terminal's two deep-water berths is 1.3km, allowing it to handle four vessels simultaneously. The terminal handles more than 700 vessels per year, including 100 calls of the world's largest container ships.
In 2021, the terminal handled more than 2.09 million TEUs. On 8 April 2021, it reached 15 million TEUs handled, a total woiumen of transshipments since its inception.
Dredging International NV is involved in seabed dredging, marine energy solutions, infrastructure and environmental projects. As part of the construction of T3, the company will lead the dredging and reclamation works to create a 36-hectare platform that will form the basis of the new terminal.
As a general contractor, Budimex SA offers services in sectors such as road, rail and airport infrastructure as well as energy and sustainable construction.
Source: PortalMorski.pl