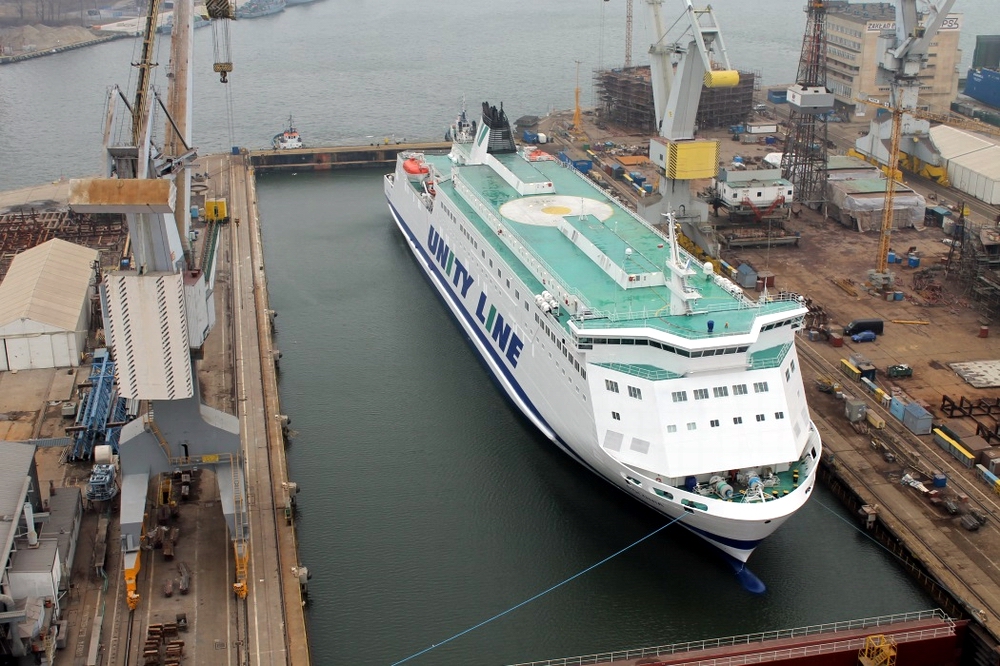 Beginning of the year was exceptionally busy time for Nauta Shiprepair Yard in Gdynia. One of the most interesting Nauta's projects in recent time was the repair of passenger ferry – Polonia. Nauta performed the fourth class renewal of the ferry. The scope of work included the inspection on the dry dock (i.a.: sealing of shafts, repair of the screw, valve repair), modernization of the loading system, machinery works, repair of steering system, replacement of pipelines and electric works.
The Polonia ferry came into use in 1995 and it has been one of the most modern and luxurious ferries on the Baltic Sea since then. During one cruise on the deck of the ferry may be up to 1000 passengers, 150 cars and up to 120 lorries or 600 m of the train carriages.
Another job recently completed at Nauta was the conversion and repairs of the 203 m long Dieppe Seaways fast conventional ro-pax ferry, renamed Stena Superfast X. The ferry arrived to Nauta on December 10, 2014 and left the yard on February 22, heading to Irish Sea. The conversion was aimed at enabling the ferry to operate on her new route between Holyhead (Wales, UK) and Dublin (IE).
The ferry has undergone conversion works which among others included: modification and refurbishment of the interior in the public open spaces, refurbishment of the cabins to Stena Line standard, conversion of  the cargo access equipment in the bow and stern e.g. installation of bow- and stern ramps and modification the bow doors to its origin, installation of a watertight door on deck no. 2 and watertight bulkhead in pipe tunnel to conform with UK stability regulations, renewal of  main propulsion propeller blades and application of a new livery.
On 23th February bulk carrier vessel Szczecin entered dock no 4 of Nauta. The ship has undergone intermediate repairs in around two weeks, with standard works on the renewal of the protective coatings. Szczecin was built in 2012 in Chinese Shipyard Xingang. It is a geared bulk carrier, used to transport grain, fertilizer, coal and phosphates. It is equipped with five cargo holds and four deck cranes with a lifting capacity of 30 tons each.