Bold investment plans for Polsteam and Unity Line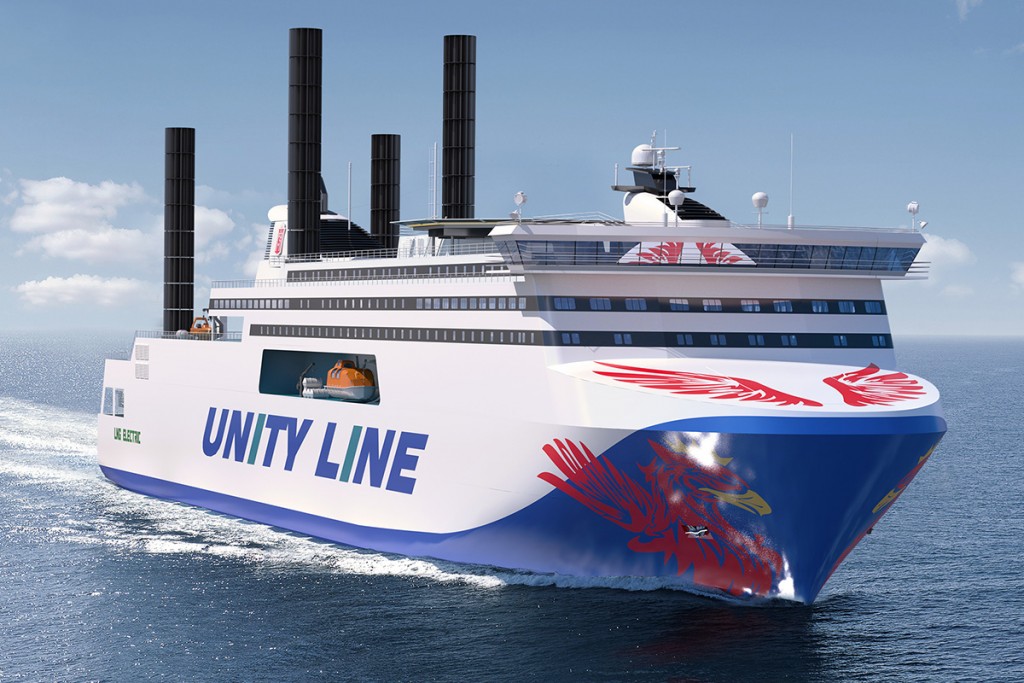 State owned Polish Steamship Company (Polsteam or PŻM – Polska Żegluga Morska), based in Szczecin, Poland's largest shipping company and owner of Unity Line ferry operator, has, together with their partner NED Project (Gdańsk based consulting naval architects), released a video revealing group's investment plans.    Four modern, "super-ecological" NED Project designed ferries for Unity Line are foreseen. The vessels are to be LNG – electric powered, with addition of batteries (which – we understand – makes it "hybrid" propulsion).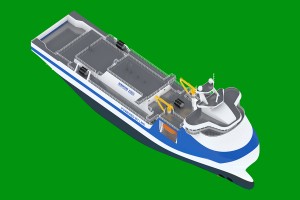 Polsteam also plans to invest in PSV (Platform Supply Vessel) to LNG bunkering tanker conversion (with a hull platform readily available at one of Polish yards). That would make a logical solution, if plans to build four LNG fueled ferries materialize.
While there are some solid initiatives and co-operation agreements signed (eg. between Gdansk based oil & gas upstream, refinery and downstream company Lotos, rendering also fuel supply services in Polish ports and Polish energy group, dealing mainly with natural gas, so far solely importing LNG through Świnoujście LNG terminal) on providing LNG bunkering services in Poland and there are plans (currently at pre-tender technical dialogue stage) to build a second berth at LNG terminal in Świnoujście, to serve small scale LNG and LNG bunkering tankers, these regard shore to ship (road tankers) supplies and none of the companies operating on Polish marine fuels market (even the ones operating bunker tanker fleets) have announced plans to invest in LNG bunkering tanker so far.
The new ferry planned for Unity Line is to feature highly environmentally friendly solutions and technologies applied. They include innovative, effective propulsion system. As visualisations and animations on a released video (not to be accompanied by official press release, as we learned today, while the project will be officially announced during Baltic Herring maritime community meeting in Szczecin, Poland, on Friday evening) show – installation of four vertical rotors of wind generators (not Flettner rotors) is to be foreseen, able to generate up to 1279 kW at 20 m/s strong winds and said not to affect the ship's speed.
Renderizations of an innovative ro-pax ferry designed by NED Project for Polish Steamship Company's Unity Line. Fig.: NED Project.
The ferries would have an LNG propulsion (dual fuel, to be more precise, with LNG as a primary fuel) with electric transmission from four DF generators to electric motors powering two conventional propellers (not azipods seeming to be choice). When it comes to "hybrid component" of the propulsion system – batteries would be loaded from wind generators while the ship is berthed. Of course the wind generators would also be used during ship's transit.
The new Unity Line ferry concept is a 204.00 m long, 31.80 m wide, 9.30 m deep (to main deck) Ystad-max with 9000 deadweight capacity, with design in-built capability to be easily lengthened (lengthening-ready) to the final length of 225 m.
In their basic configuration (before lengthening) the vessels would each offer 3600 m ro-ro lane length and would accommodate up to 521 passengers (in 155 two-berth, 47 three-berth cabins and three two-berth cabins fitted for disabled as well as two "owner's staterooms" and 48 recliners) with 72 persons strong crew.
It seems the concept is relatively well advanced in development, with Wartsila propulsion system chosen, based on four dual fuel ecological and economical Warstila W6L50DF engines, rated at 5850 kW each.
The decision on the building of the four planned ferries and on expenditures involved will be taken in June or July, according to declaration of Pawel Brzezicki, general director of PŻM, included in a video revealing the newest investment plans of the Szczecin based company.
Brzezicki also reveals, in a video material released on May 17, that there is a possibility (for Unity Line – as understood) to open a ro-ro connection linking Świnoujście, Poland with one of the southern UK ports, in the coming years.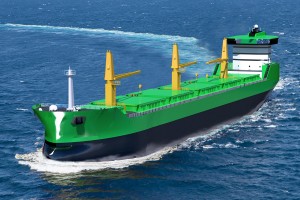 The video presentation, with the innovative ferries being the main subject, also shortly covers, in chapter titled "Investments", interesting concept of an LNG bunkering tanker based on a PSV vessel from Remontowa Shipbuilding. It appears, drawing from the same video presentation, Polish Steamship Company intends to oreder as many as 15 innovative, LNG fueled ocean going lakers (geared bulk carriers designed for operation on Great Lakes and St. Lawrence Seaway) with a deadweight capacity of 36 500 t each. It is understood they would be put into operation during 2020-2025.
PBS
Illustrations: NED Project, NED Project / PŻM, NED Project / Remontowa Shipbuilding