Aoka Mizu FPSO hosted at Remontowa Shiprepair Yard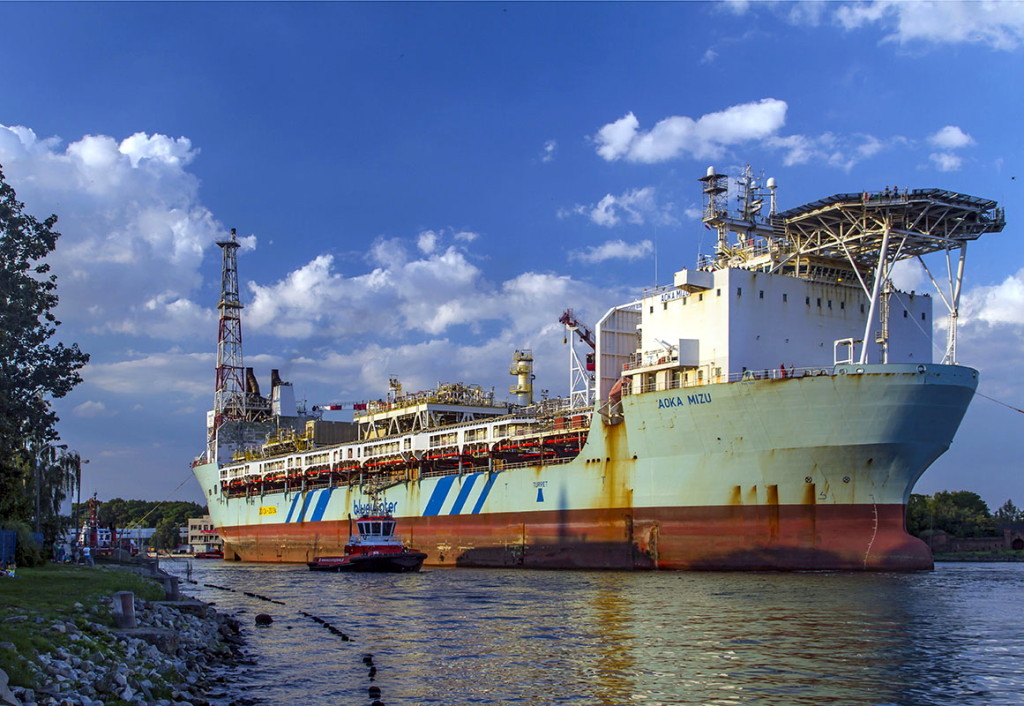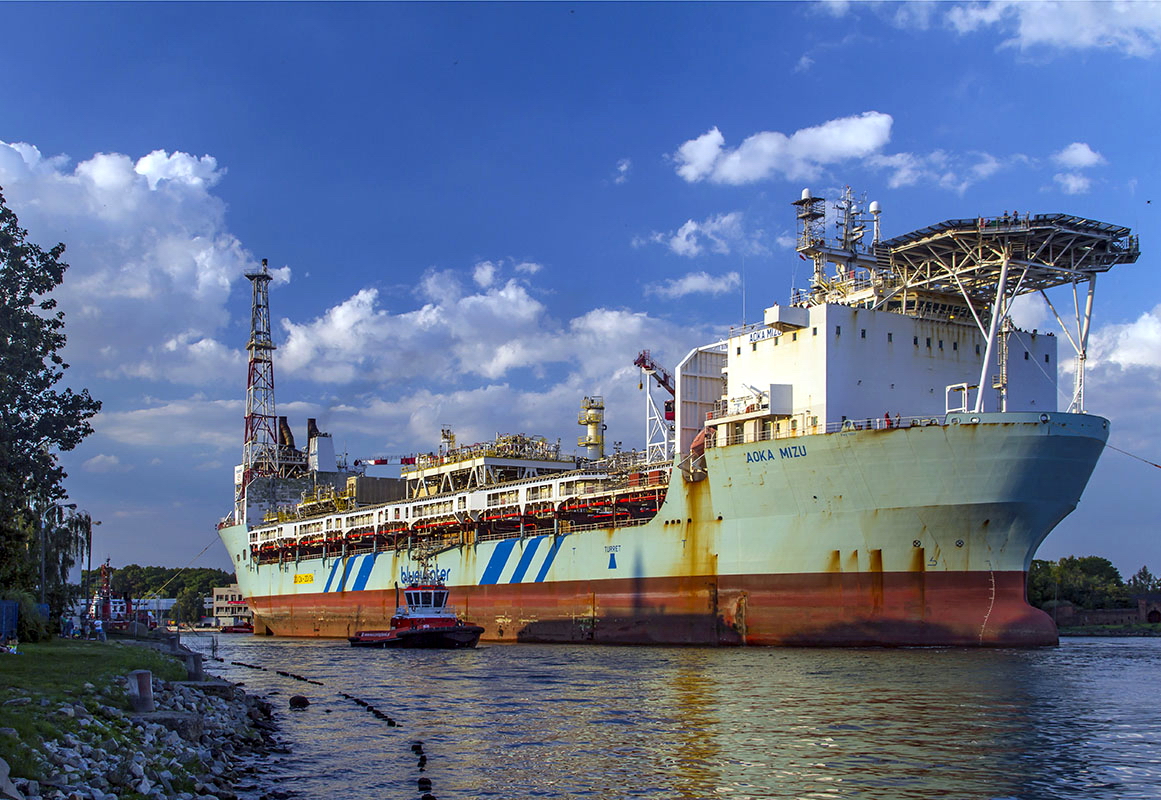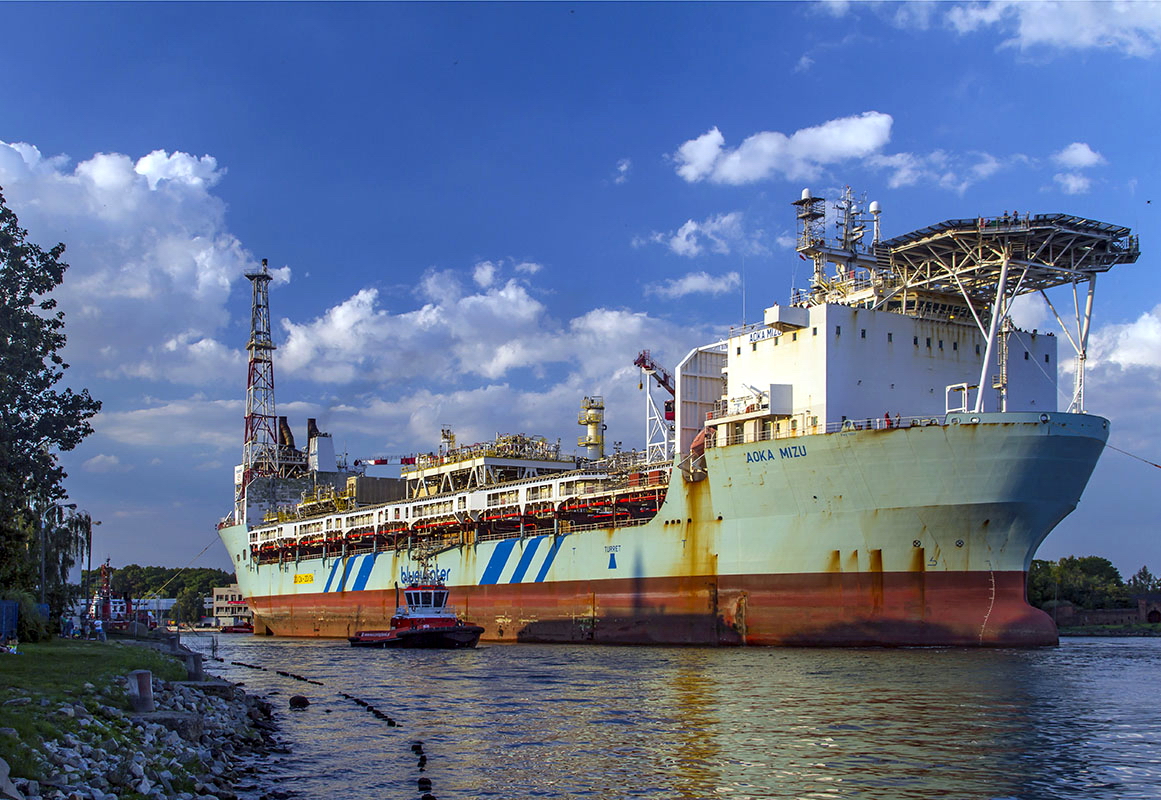 On August 8, 2016, the Aoka Mizu FPSO unit arrived at Remontowa Shiprepair Yard SA in Gdańsk. The FPSO had appeared in coastal waters of Gdańsk Bay already on the 6th of August, however due to extremely harsh weather conditions on that day, the vessel was towed to Remontowa two days later, on Monday in the evening. The shipyard doesn't reveal the scope of work to be done on the vessel.
The Aoka Mizu is 248,12 m long, has a 42 m moulded breadth and a 21,2 m moulded depth. It has a 14,9 m design draft and a deadweight of 105,000 t. The vessel has a 7,985 m2 deck area, a 6,000 m2 topsides and a 8,000 t deck payload. It can accommodate 90 persons.
She is a next generation Bluewater designed, built, owned and operated FPSO. The hull was newly built at the Hitachi Zosen Shipyard in Japan (in the years 1998 – 1999) and directly adapted to be finished as an FPSO (in the Singaporean Sembawang yard, 2006 – 2008), by integrating a turret moonpool, a foundation grillage to support process topsides and hull upgrades for higher ultimate strength and fatigue capacity.
Bluewater Energy Services, a company headquartered in the Netherlands specializes in the construction and operation of Floating Production Storage and Offloading (FPSO) systems,  Floating Storage and Offloading (FSO) systems and Single Point Mooring (SPM) systems.
The company owns and operates a fleet of nine FPSOs. The remaining are: Acqua Blu, Ayer Biru, Lan Shui, Uisge Gorm, Glas Dowr, Bleo Holm, Haewene Brim and Munin. Their names, except the latter, mean "Bluewater" in a local dialect language.
The Aoka Mizu is designed and suitable to operate in extreme harsh environmental conditions, due to highly strengthened and reinforced hull structure throughout.  It's equipped with a  disconnectable internal Turret Mooring System (TMS), located aft of the accommodation enabling passive weathervaning.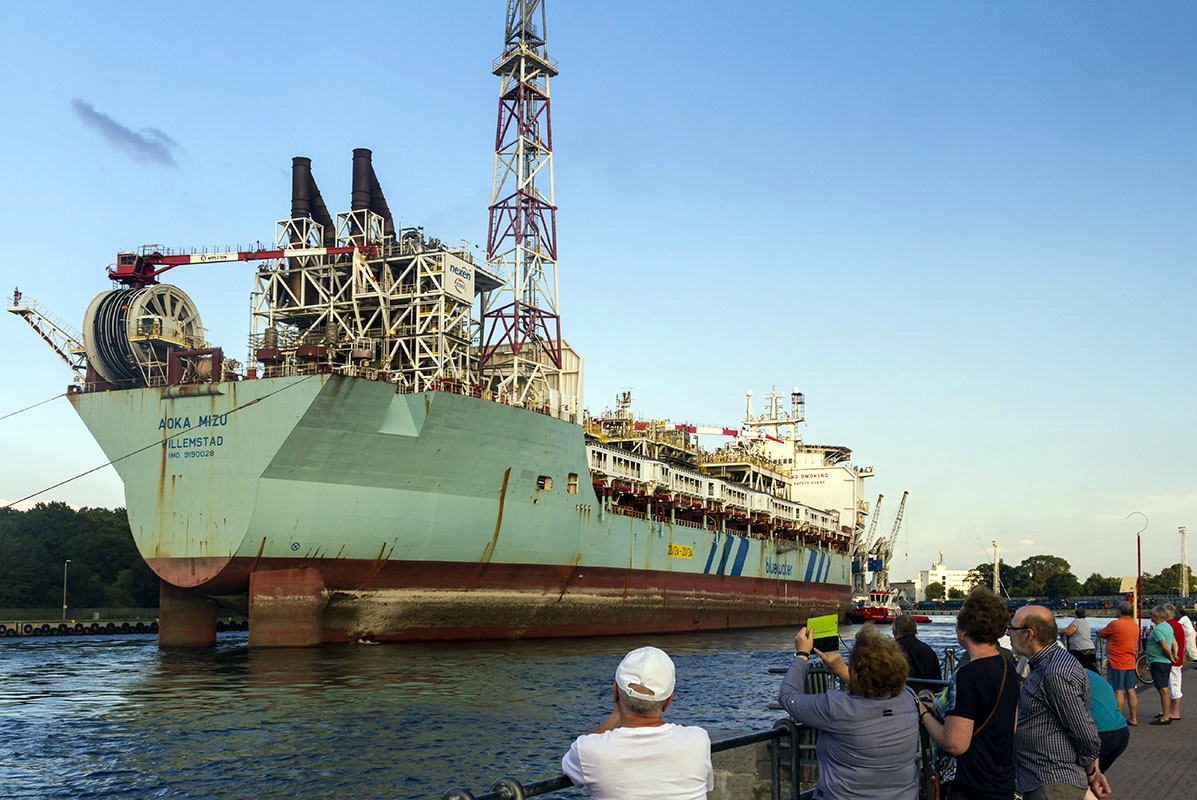 The mooring legs are connected to the turret and are arranged in a 3×3 configuration, optimized with respect to prevailing wind conditions. She is also equipped with own propulsion and with a Dynamic Positioning (DP) system enabling her to hook-up to the disconnectable turret autonomously.
In 2009 the FPSO started production on the Ettrick and Blackbird fields on the UK part of the continental shelf of the North Sea, located in the Outer Moray Firth, 75 mi northeast of Aberdeen, for Nexen Petroleum UK, a wholly owned subsidiary of CNOOC (China National Offshore Corporation) Limited.
However, in May 2016, cancellation of that contract from Nexen was reported and on June 1, decommissioning of the vessel commenced. According to the Department of Energy and Climate Change's online field database, production at Blackbird and Ettrick, in about 370 m water depth, has already ceased. Buoy and moorings removal is expected in 2017-18, well plugging and abandonment in 2018-19 and subsea infrastructure removal in 2019-2020.
As Bluewater has informed in its release: "redeployment opportunities for the FPSO Aoka Mizu are actively being pursued". Meanwhile the Aoka Mizu was removed from the location and arrived at Remontowa.
The FPSO is DNV GL classed. Class Notations: + 1A1 Ship- Shaped Production and Storage Unit with the additional Notations POSMOOR, Crane, Ec0, HELDK-SH, DYNPOS- AUT, UKVS.
Its worth recalling, that the Aoka Mizu has not been the first FPSO unit hosted at Remontowa, since repairs and modifications of such offshore vessels have been one of its specialities. In 2007 the shipyard converted a tanker into the Petrojarl Cidade De Rio Das Ostras FPSO unit for Teekay Petrojarl Production AS.
Since 2015 Remontowa has been converting the shuttle tanker Hanne Knutsen to a Floating Storage and Offloading (FSO) vessel for operations on the Martin Linge field. Another FSO unit being currently upgraded at the yard is Teekay-operated Apollo Spirit, which already underwent extensive repairs and modifications at Remontowa in 2011.
GL, rel (Bluewater)