Another ship from the Grande Marocco series sailed out of Remontowa SA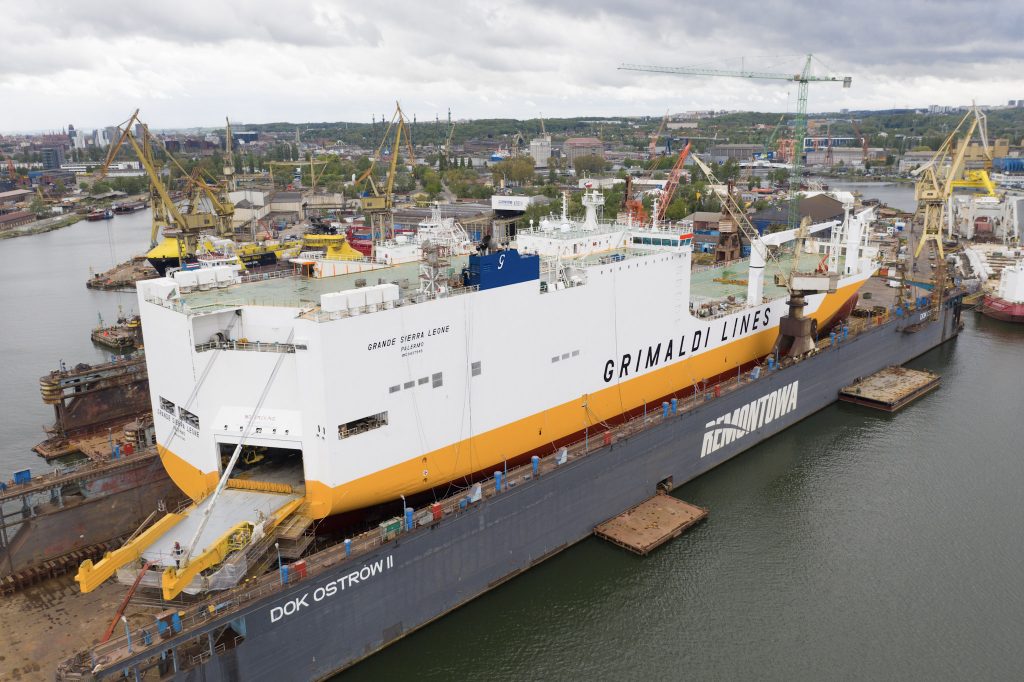 On Friday, 29 May, the Container/RoRo Carrier of the Grande Marocco series sailed out of Stocznia Remontowa SA in Gdańsk. The unit was fitted with a flue gas scrubber limiting the emission of sulphur compounds to the atmosphere.
Grande Sierra Leone is the third in a series of five Grande Marocco units belonging to the Italian shipowner Grimaldi Deep Sea SpA, which this year were received by the shipyard from the Remontowa Holding group for the assembly of scrubber, i.e. the already mentioned scrubbers.
A few days ago, Grande Congo was also received by the shipyard, which is now in the process of repair work, and after that, Grande Guinea is still expected at the yard.
The series of these ships was built in 2010-2011 at the South Korean shipyard Hyundai Mipo Dockyard in Ulsan.
It is worth mentioning that Stocznia Remontowa SA also repaired ships of another series – Grande Lagos – of the same shipowner, in 2018-2019. The first one – Grande Lagos – sailed out of the shipyard in October 2018. After that, the second ship of the series – Grande Dakar – was contracted, and the next four, repaired in 2019 are: Grande Tema, Grande Abidjan, Grande Luanda and Grande Cotonou.
Apart from class repairs and a number of related works, the main task on the above mentioned ships was also the assembly of the scrubber (ships of this series were already adapted to the assembly of this system – they had a separate place).
Let us recall that as of January 1, 2020, the "Global Sulphur Cap" directive entered into force worldwide, reducing the permitted levels of sulphur oxides emissions by ships from 3.5% to 0.5% (outside the emission control zones – ECA – where a 0.1% limit had already been introduced). The new regulations, in line with the objectives of the International Maritime Organisation (IMO) and the climate policy of the European Union, are to contribute to the reduction of emissions from the combustion of marine fuels with high sulphur content, responsible for the so-called acid rain and increase in the greenhouse effect.
SL, AL
In the picture below you can see Grande Sierra Leone, which has already sailed out of Remontowa SA and Grande Congo, which is currently undergoing renovation works.