About forwarding and transport in InfoBox – 160 years of C.Hartwig Gdynia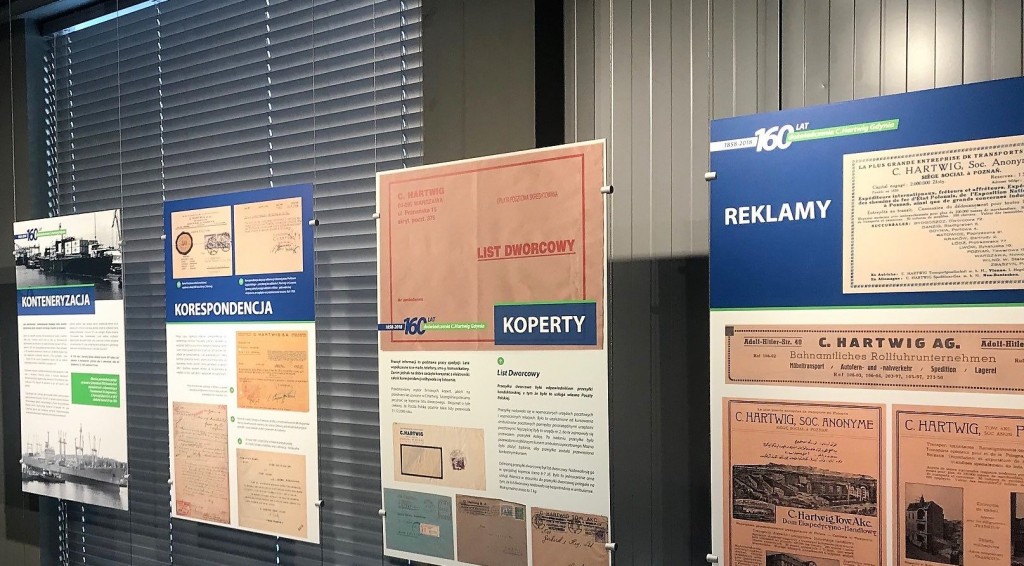 In July 2018, C.Hartwig Gdynia, part of OT Logistics Capital Group, celebrated its 160th anniversary. The company's roots date back to the Grand Duchy of Posen. Soon after Poland had regained independence in 1918, C.Hartwig Gdynia became a state-owned firm performing the role of a national forwarder. Construction of the port in Gdynia was a key event for the company. C.Hartwig has been present there since 1926, and as early as in 1929 the firm handled 11% of the Polish international trade, providing also brokerage services. During communism the company was one of the most significant international freight forwarding and logistics enterprises. At present C.Hartwig Gdynia is a private company constituting OT Logistics Capital Group.
Inter alia, the exhibition organised in the Observatory of Changes in Gdynia – InfoBox, located in a cultural and information centre of the city, forms an element of the celebrations of C.Hartwig Gdynia's 160th anniversary.
– The history of our company is almost twice longer than history of Gdynia. For many decades the firm was evolving along with an increase in importance of Gdynia on the Polish coast. We are glad that now we can share memorabilia collected by us and by our staff members with the support of the city authorities. We would also like to invite residents to a meeting with our expert in InfoBox where we will tell a little about the ins and outs of freight forwarding – says Mirosława Klas, who is in charge of organising exhibitions on C.Hartwig Gdynia.
Photographs and other materials picturing the company's history and development are shown on the exhibition. Some exhibits are presented thanks to commitment and by courtesy of former staff members of the firm. You can visit the exhibition on C.Hartwig Gdynia until 18 August.
rel (OT Logistics)