Minehunter launched and christened at Remontowa Shipbuilding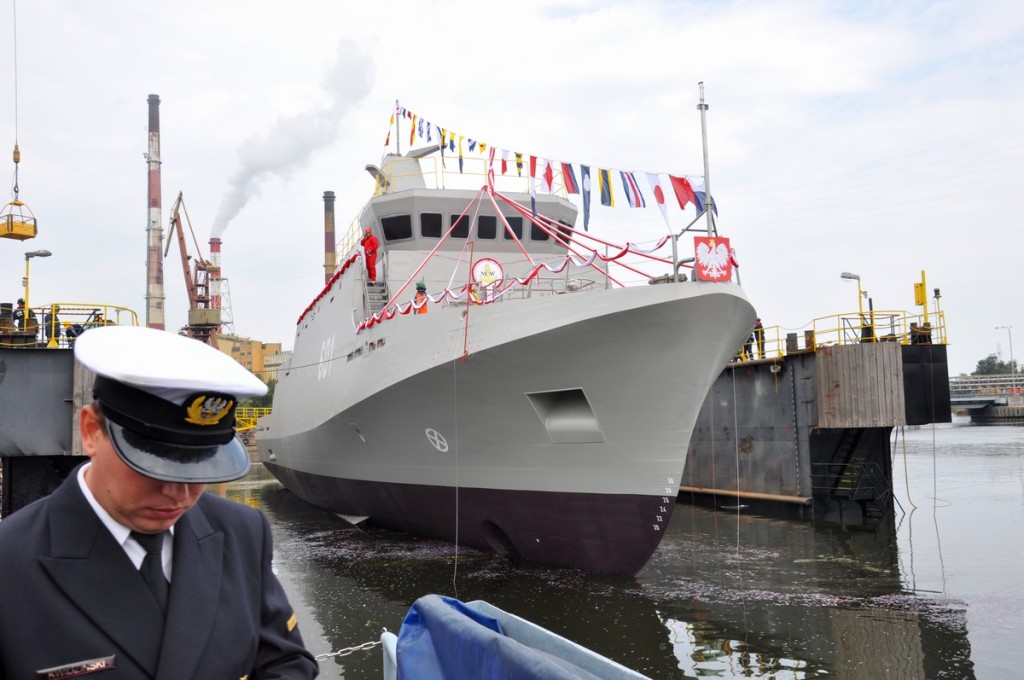 On September 4, 2015 at Remontowa Shipbuilding, one of the most technologically advanced navy ships in Europe was launched. Polish Prime Minister and numerous other top level state's officials participated in the ceremony.
– Sail the Oceans and the Sea, be the proof of reputation of the Polish shipbuilders and sailors. I hereby christen this ship: Kormoran – Maria Karweta, the minehunter's godmother said, when she began the launch ceremony of the Polish Kormoran minehunter.
The partly outfitted and painted hull of the ship, however lacked the external equipment featuring no antennas nor the hardware was then lowered into the water in a dry dock.
During the official speeches it was emphasized that the new minehunter is created in line with a completely Polish design, in a Polish, private facility, financed by 100% of the Polish capital.
"Kormoran II" class minehunter is dedicated to mine hunting tasks in Polish EEZ (Exclusive Economic Zone), as well as in tactical task forces in Baltic and North Sea and other auxiliary tasks defined by Polish Ministry of Defence. The vessel is designed with great care to achieve low signature and high manoeuvrability, owing to use of cycloid propellers driven by diesel engines.
This is going to be the first vessel for the Polish Navy since 20 years, that was constructed entirely by the Polish industry. However, Remontowa Shipbuilding, formerly known as Northern Shipyard has rich track record in the military production, since the company in its history has built over 400 military ships with majority delivered for the Polish Navy.
The first model laboratory tests of the Kormoran II minehunter began a few weeks after the contract was concluded, in September 2013. In April 2014, a ceremony of cutting the first sheets for the ship took place (the hull is created out of non-magnetic steel). On 23rd of September 2014, on the anniversary of signing the contract, the keel-laying ceremony took place. The hull of the ship left the assembly hall on May 3rd 2015 and was prepared for launching.
Let us remind, that of nearly PLN 140 billion that are planned to be spent on military forces and defence until 2022, over 13 billion is destined for renewal of the Polish Navy. After almost 20 years of negligence and no investments, the opportunity emerges to strengthen Polish Navy with modern ships to take an important part in defence system of Poland.
So far the most advanced program execution is seen in the "Kormoran II" minehunter class. The first unit of this class is under construction at Remontowa Shipbuilding. The ship is expected to go into service in 2016,