The last cruise of ORP Bielik [VIDEO]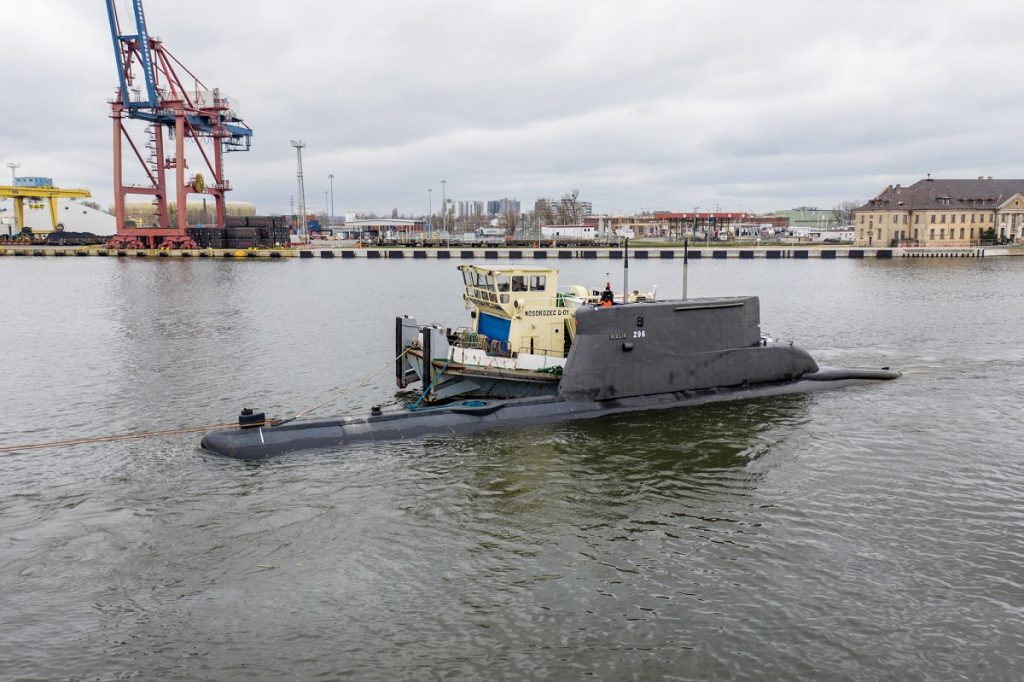 ORP Bielik, assisted by the pushers Rhinoceros G-01 and Rhinoceros G-02, entered the Remontowa Shiprepair Yard S.A. in Gdańsk. It is the second submarine of the 207 Kobben type that has been towed to the Remontowa Holding group shipyard in recent months. A few weeks earlier ORP Sęp was docked there. The visit of the vessels is connected with their decommissioning.
Part of the works preparing the vessels for this stage is carried out by the Remontowa Shiprepair Yard S.A. under the tender "Decommissioning of battery batteries together with instrumentation on ORP Bielik and ORP Sęp" announced by the Naval Port of Gdynia Headquarters. Completion of all tasks included in the contract means a definitive withdrawal of these vessels from operation and extinction of their combat readiness.
The execution of the whole contract will end in May this year.
The plan drawn up by the Inspectorate of Support for the Armed Forces assumes the transfer of both ships to the Military Property Agency, which is to sell them. According to the published information of the Inspectorate of Support for the Armed Forces, ORP Sęp was valued at PLN 750,858.48 and ORP Bielik at PLN 755,856.37.
ORP Bielik is a Navy submarine of 207 / Kobben type. The vessel was launched on 27 January 1967 in the German shipyard Nordseewerke, ordered by Norway. The ship entered service with the Norwegian Navy in 1967 as HNoMS Svenner, and was transferred to the Polish Navy in 2001. Two years later, the Polish flag was raised on it.
In October 2019, ORP Bielik sailed to Remontowa Shiprepair Yard S.A. for ongoing repairs. The most important items on the ship's work schedule included the repair of all water and fuel valve fittings (on ballast systems, cooling systems); the repair of several dozen air valves; the replacement of about 60 running metres of bilge and ballast system pipelines; and maintenance work on the hull together with the repair and tightening of watertight covers and exhausts of internal combustion engines.
It is worth mentioning that in the shipyard of Remontowa Holding Group, for the first time in history a repair on a submarine was carried out in August 2013, when ORP Sokół entered the shipyard.
rel. PortalMorski.pl
Photo: Sławomir Lewandowski; Marcin Koszałka / PortalMorski.pl