Completed repairs and upgrade of Safe Bristolia at Remontowa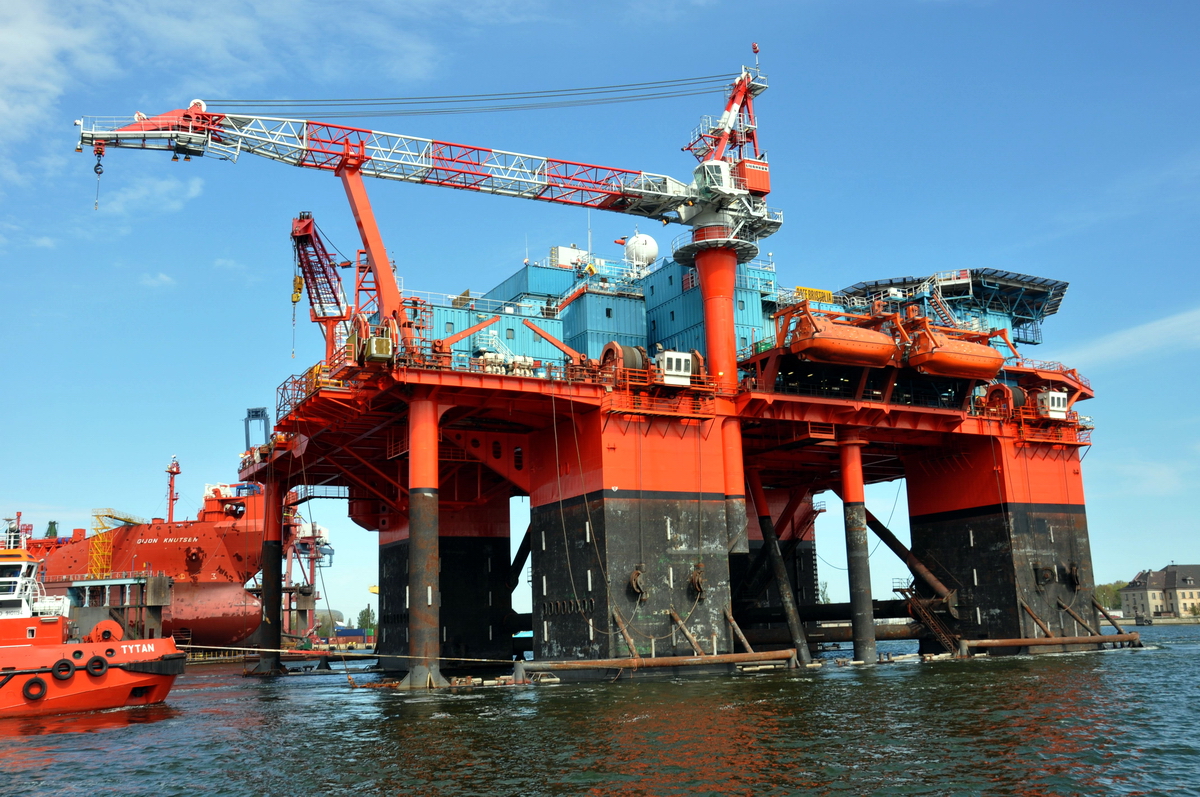 Extensive range of works have been completed on a semi-submersible accommodation platform Safe Bristolia hosted at Remontowa for the second time. After undocking in April, on Wednesday, May 4, 2016, before noon, the platform was swiftly towed out to the port of Gdansk anchorage. After some preparations and deep sea tug tie up, in the evening on the same day, the tow of the Safe Bristolia commenced with the 75 m long, 16,000 horsepower AHTS Terasea Eagle heading for the North Sea.
The Safe Bristolia commenced its another job in May, within the UK sector of the North Sea. According to some press reports, the mobile offshore unit is deployed in the northern part of Everest offshore oilfield, 233 km East of Aberdeen.
Let us recall January 16, 2015, when the accommodation platform Safe Bristolia arrived, towed from Scotland, after having experienced some difficulties in rough, winter weather at North Sea. During 23 and 24 January, a successful docking of the  Safe Bristolia, weighing some 10 000 ton, was carried out onboard a submersible heavy-lift barge Rem Lift 25 000 , belonging to Remontowa SA.
The recent one has been already the second visit of this offshore unit at Gdansk based Remontowa SA, member of Remontowa Holding. Earlier, from October 2010 till May 2011, it was undergoing extensive repairs, maintenance and upgrade in Gdansk.
This recent time, in turn, the semi-submersible accommodation platform has arrived at Remontowa SA for general repairs, including 5 year class renewal, maintenance and protective coatings application works, works inside tanks and some other tasks, including sizeable steelworks. A specialist offshore deck crane was replaced with a new one.
The Safe Bristolia is a 1983 built and 2006 converted moored semi-submersible accommodation vessel with beds for up to 588 persons and equipped with telescopic gangway (35.0m +/- 6.0 m) and 8 point wire winches mooring system.
Not only the Safe Bristolia itself is returning to Remontowa SA for its quality and competitive services, but her Owners, Prosafe as well. Prosafe, which is the world's leading owner and operator of semi-submersible accommodation vessels, has already brought several such units to Gdansk based Remontowa SA for repairs or modifications and upgrades.
pbs