Giant container vessel docked at Remontowa
In October and November, last year, two quite a large container vessels were serviced at Remontowa – namely: Seago Antwerp and Seago Felixstowe, 293.9 m in length and 32.2 m wide, each. These are not only big, but also feature effective, large diameter, 92-tonne propellers – largest to be seen at the yard so far.
After repairs the large container vessels left the shipyard, and, after just a month, another large box carrier arrived, with even bigger propeller, weighing 101.3 tonnes. Glen Canyon Bridge belongs to Japanese owner Nitta Kisen Kaisha Ltd. The vessel, plying the Panamian flag, is operated by renowned shipping company "K" Line in Europe-Asia liner services.
Named after the famous, then world's largest in its class, arch bridge, Glen Canyon Bridge built in the 50-ties over the Colorado river in Arizona, the ship itself was built in 2006 at Korean yard Hyundai Heavy Industries of Ulsan. It features 71 291 t deadweight, 6642 TEU container capacity, 284.71 m length over all, post-panamax 40 m beam, max draft of 12.5 m and service speed of 25 knots.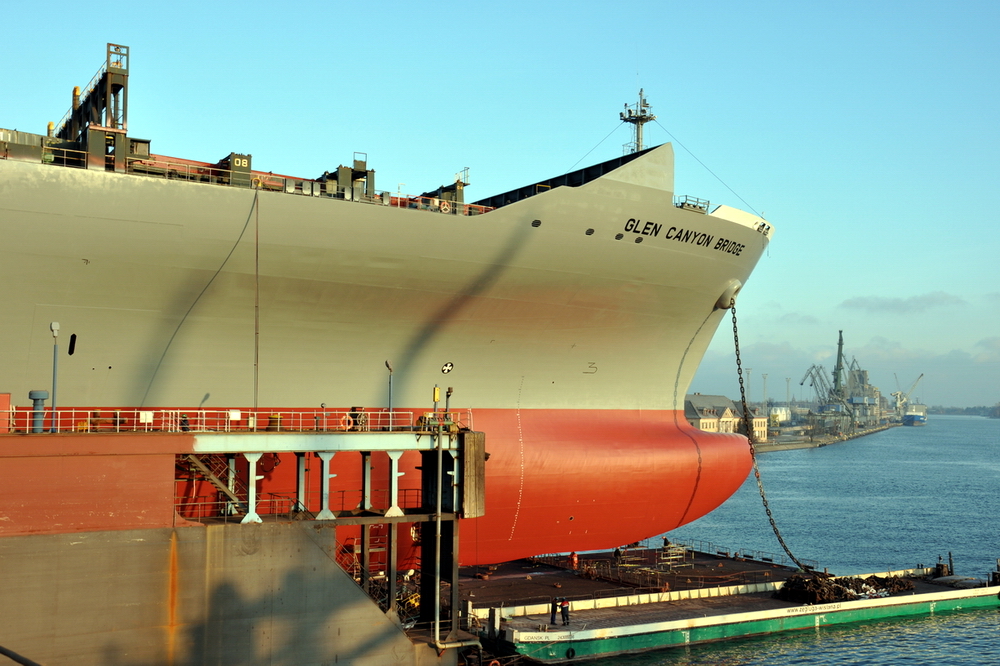 Glen Canyon Bridge has been the largest hull volume vessel to docked in Remontowa's largest dock no. 6 so far. There were somewhat longer vessels (Danish container vessels, 294 m long), but those were more slender (at panamax – 32.2 m beam). There were also some shorter ones (such as 250 m long), but even wider (at 44 m beam) instead. T
he Japanese container vessel also features the largest propeller of all ships serviced by the yard to date. It weighs a whopping 101.3 tons. It translates into considerable size of other items of ship equipment as well, such as the propeller shaft.
PBS