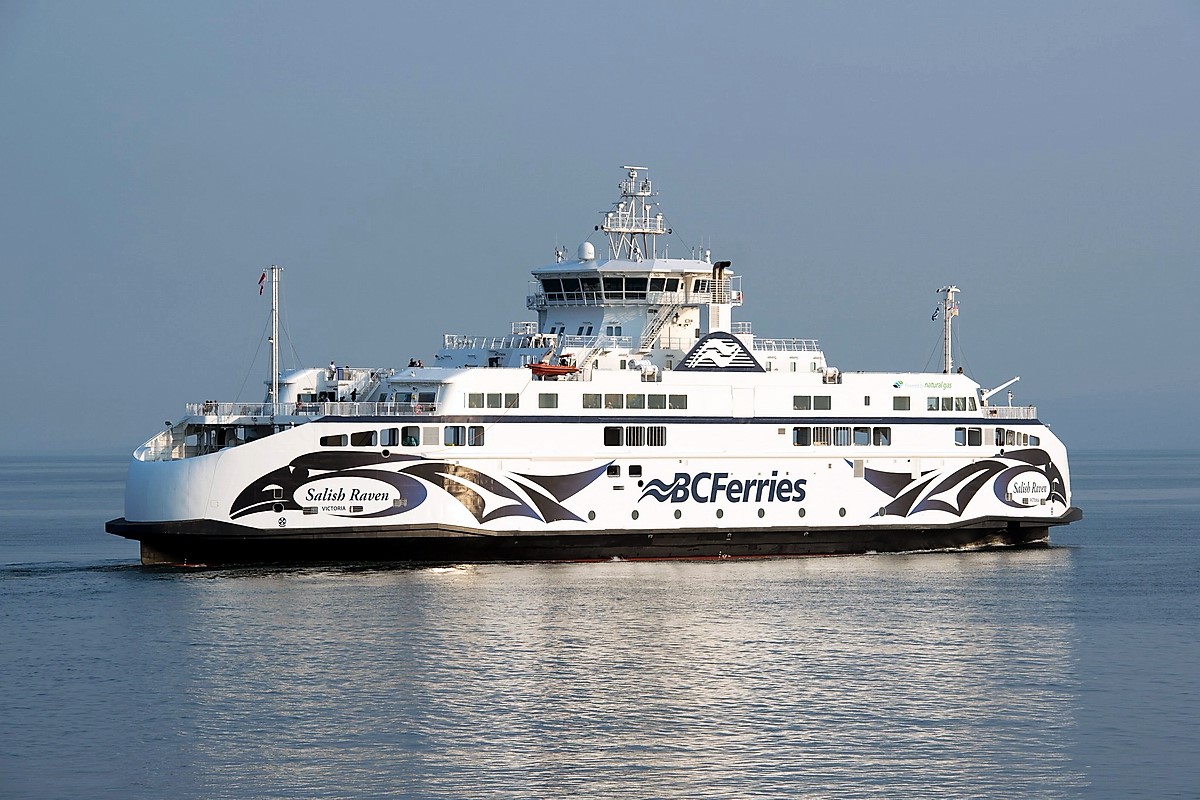 On August 3, 2017 Salish Raven, the third in the series of three new LNG-powered car passenger Salish Class ferries started its service on the Tsawwassen – Southern Gulf Islands route – BC Ferries (BCF) annouced.
The company had worked diligently to fast track the ship into service to ensure smooth sailing for the remainder of the summer. The ship entered the service sooner than it had been originally planned due to a mechanical problem with the starboard controllable pitch propeller experienced by the 53-year old Queen of Nanaimo which was to be replaced by the Salish Raven.
As Mark Wilson, BCF' Vice President of Engineering explained, since engineers had been unable to determine the root cause of the problem with the Queen of Nanaimo, which had to remain in repair, the company decided to put its new vessel into service. Salish Raven will be based at Tsawwassen terminal for the summer servicing the Southern Gulf Islands.
Earlier, at BCF' Richmond refit facility, the wrap adorning the hull of Salish Raven had been unveiled. Let us recall, that the artwok designed by the Musqueam First Nation's Thomas Cannell depicts the beauty of the powerful, intelligent raven. His bold vision of this majestic bird certainly engages his audience with a new style of Coast Salish art.
The Salish Orca, Salish Eagle and Salish Raven are the newest vessels to join the BCF fleet this year. The new vessels have replaced the Queen of Nanaimo and the now retired Queen of Burnaby.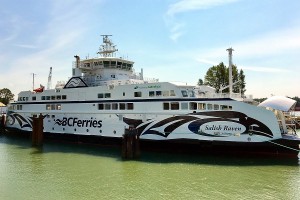 The Salish Class vessels were built at Remontowa Shipbuilding SA in Gdansk, Poland. All three vessels arrived in BC this year after a 10,440 nautical mile journey for each ship. The Salish Orca arrived in Canada in January 2017, and entered service on the Comox-Powell River route in May. The Salish Eagle arrived in March and entered service on the Tsawwassen-Southern Gulf Islands route in June. The Salish Raven arrived in June and entered service for the Southern Gulf Islands in August.
As Mark Wilson emphasizes, in less than three months, BCF has introduced three new ships into service which has been an amazing coordination of effort and resources with shipboard crews, shore side support teams, fleet maintenance unit and vessel replacement program staff.
– We're pleased to now welcome our customers aboard Salish Raven and the ship will provide safe and reliable service for our passengers for decades to come – Wilson adds.
The Salish Class vessels are capable of running as dual-fuel on either natural gas or ultra-low Sulphur diesel. BCF' use of natural gas for the Salish Class vessels results in the reduction of an estimated 9,000 metric tonnes of carbon dioxide equivalent per year, which is the same as taking 1,900 passenger vehicles off the road annually.
Under contract to the Province of British Columbia, BCF is the service provider responsible for the delivery of safe, efficient and dependable ferry service along coastal British Columbia.
GL, rel (BC Ferries)