Tunnel Boring Machine will drill tunnel in Świnoujście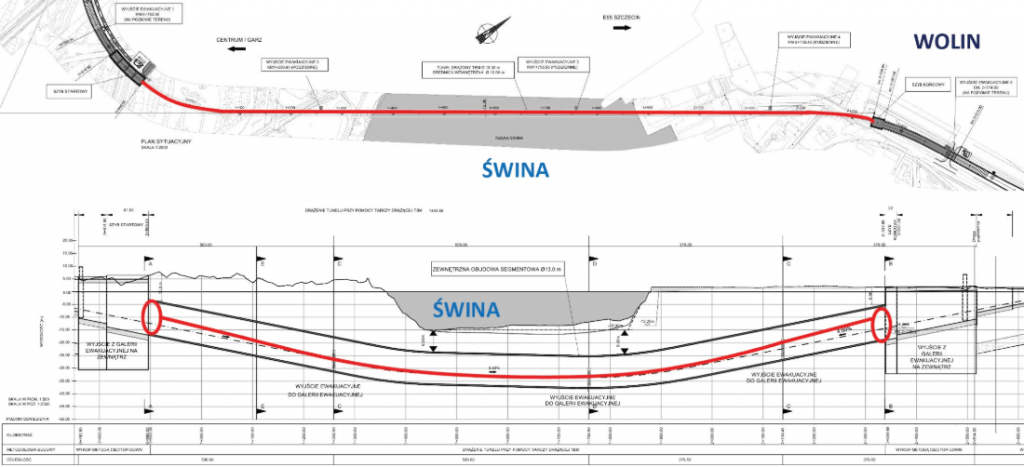 During this year's holidays, a device will be transported to Świnoujście, which will drill the tunnel – informs Radio Szczecin. TBM (Tunnel Boring Machine) is a machine dedicated especially for this investment.
– This spring in China it will be assembled so that the contractor knows what it looks like or works… Then he will dismantle it, load it on the ships, and for a few months it will sail to Świnoujście. Then it will have to be assembled here again, and it is a huge machine, over 100 meters tall, a colossus as big as a train – explained Mariusz Rabenda from Świnoujście City Hall for Radio Szczecin.
The machine is about 100 meters long, the diameter of its disc (external diameter) is 13.46 meters, internal diameter is 12 meters. The machine weighs 2740 tons. It is the largest TBM that has been used in Poland so far (so far the largest TBM machine with a 13.04 m diameter disc has been purchased for the construction of a diameter tunnel in Łódź).
Drilling of the tunnel will start as planned in March 2021. Currently, the city and contractors are waiting for the construction permit, which should be issued in October 2020.
A consortium of companies is responsible for the design and construction of the tunnel in Świnoujście (an investment worth PLN 912 million, of which 85% will be co-financed by EU funds): Porr SA, Porr Bau GmbH (Austria), Gülermak Agir Sanayi Insaat ve Taahhüt AS (Turkey) and Energopol Szczecin SA.
The Świnoujście tunnel, connecting the islands of Usedom and Wolin, is to be 1.40 km long. It is planned to have a roadway with two 3.5 m wide lanes each, with an evacuation tunnel below the roadway. The tunnel in Świnoujście will become the second underwater road tunnel in Poland, after the first tunnel under the Dead Vistula River in Gdańsk, commissioned in 2016.
The tunnel will have such a large diameter (hence the record-breaking tunnel tunnel in Poland), because it was decided to build a single-pipe tunnel. A single-pipe tunnel can successfully serve the residents and visitors of Świnoujście, ensuring safety, but it is necessary to ensure that there is enough space inside it to carry out e.g. evacuation action. In the future – if necessary – there will be no problem with the addition of the second thread, however, according to the research carried out, it is clear that considering such a solution may become necessary not earlier than around 2045.
Rel (Porr SA), Radio Szczecin