The Lech Kaczynski LNG carrier launched in South Korea
The first of the new LNG carriers from Norwegian shipowner Knutsen OAS Shipping to be operated by the Polish company PGNiG on long-term charter has been launched at South Korea's Hyundai Heavy Industries shipyard.
The vessel, which has a cargo capacity of 174,000 cubic metres, was launched on June 4, the French subsidiary of Knutsen, which is responsible for the shipowner's construction surveillance at the Korean shipyard and, in the future, probably also for the technical and operational management of the gas carrier, revealed on social media.
PGNiG had previously announced the entry into service of the first LNG carrier chartered from Knutsen OAS Shipping in early 2023. Still, the shipyard is likely to deliver the Lech Kaczynski tanker before the end of this year. In addition, at least one more gas carrier chartered from Knutsen – the Grazyna Gesicka – will enter service next year under PGNiG's charter.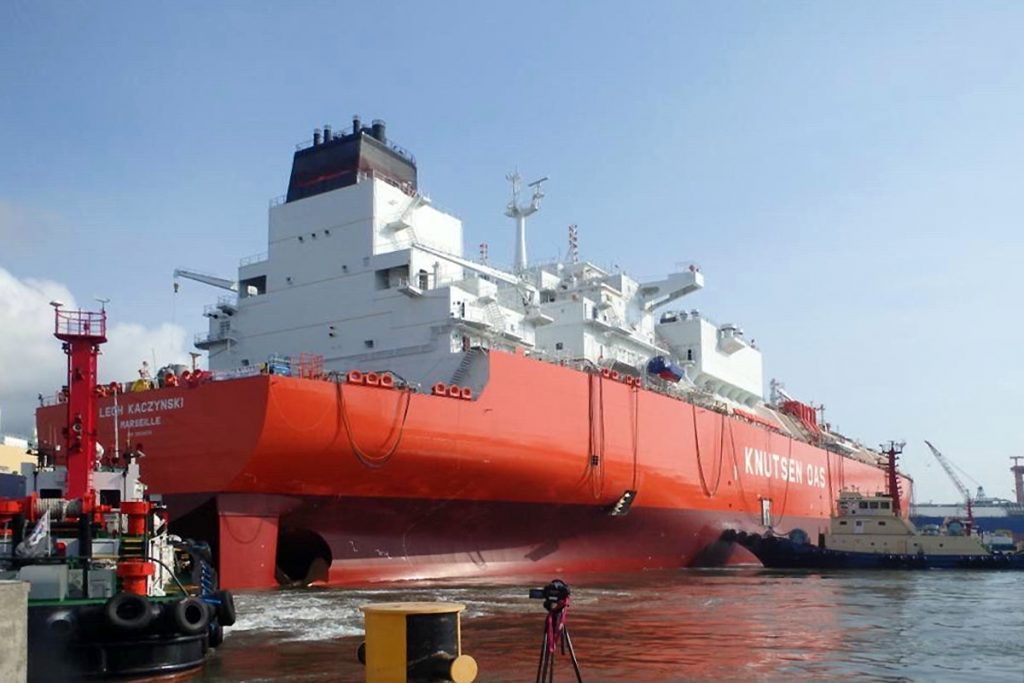 It is worth recalling that, Lech Kaczynski was elected President of Poland in 2005. Grazyna Gesicka was a deputy to the Sejm of the Republic of Poland (the lower house of the Polish Parliament), elected from the Law and Justice party list. Both were tragically killed on April 10 2010, in the crash of a Polish Tu-154M plane in Smolensk on their way to celebrate the 70th anniversary of the Katyn massacre.
PortalMorski.pl was the first to inform about naming the first two gas tankers built on the order of the Norwegian shipowner under charter to PGNiG in mid-December last year. Our previous publications also presented technical aspects of the vessels built for charter by PGNiG.
Market observers estimate that the vessels ordered by Knutsen for PGNiG cost about $187.5 million each. PGNiG will charter the vessels for ten years.
According to the charter agreements signed so far – in addition to the Lech Kaczynski and Grazyna Gesicka gas tankers, PGNiG will operate four more twin LNG tankers from Knutsen OAS Shipping and two from Greek shipowner Maran Gas.
Furthermore, PGNiG has also chartered three vessels already in operation, with capacities of approximately 160,000 cubic metres each, one of which it already has at its disposal and two of which it will receive under commercial management, one each probably this year and in the second half of the year.
In May, the 2014-built Maran Gas Apolonia (161,941 cubic metres of capacity), owned by Maran Gas, delivered its first cargo to Swinoujscie from exporter Venture Global's Calcasieu Pass terminal in Louisiana.
source: PortalMorski.pl