Seven Osprey rejuvenated at Remontowa Shiprepair Yard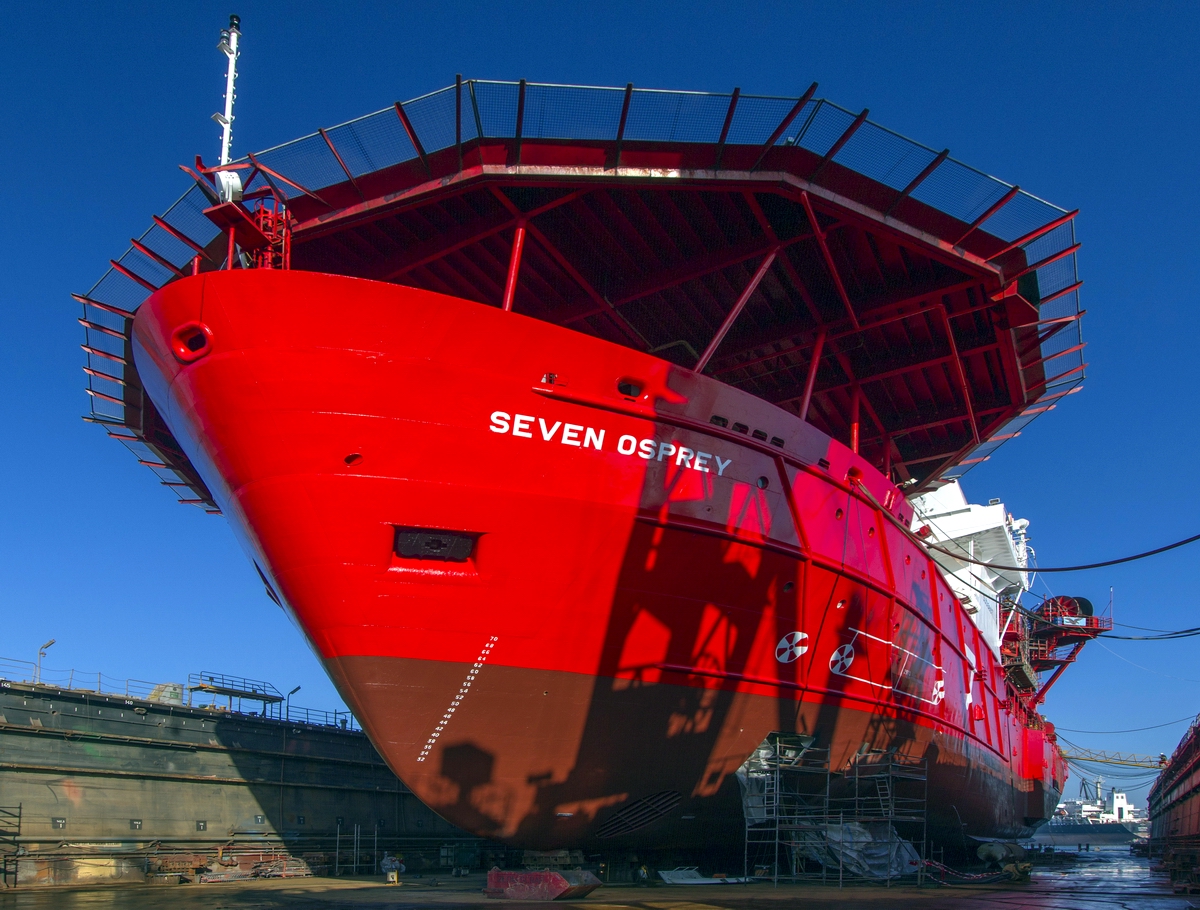 In February last year, Remontowa SA extensively serviced modern, large ROV, diving support and construction vessel Seven Atlantic (144,70 m LOA), in December – Seven Falcon (120,21 m long), while on January 22, 2016, Gdansk welcomed Seven Osprey (101,71 m in length over all) arriving at Remontowa Shiprepair Yard SA. These three complex vessels serviced within a year at Remontowa SA belong to leading, Luxemburg registered, UK based offshore & subsea operator – Subsea 7.
The company is active in subsea engineering and services, mainly in energy sector. It operates more than 40 ships in its fleet, featuring impressive equipment onboard and consisting of vessels ranging from high-performing global pipe-lay and heavy construction enablers to versatile support vessels for flex-lay, light construction and diving and remote intervention activities. The company also continues to invest in one of the world's largest and most advanced fleets of Remotely Operated Vehicles (ROVs), ranging from compact observation-class units to purpose-built drill support vehicles and heavy-duty construction-class systems.
Seven Osprey – diving and light construction support vessel is the oldest ship in versatile and modern fleet of Subsea 7.
It was built in 1984, while the ships serviced at Remontowa last year (Seven Falcon, Seven Atlantic) are just around five years old. Even though it is not new, the ship is tough and capable, performing very well.
The DNV GL classed and Liberia flagged vessel features deadweight capacity of 3104 ton, 101.71 m LOA, 21.6 m beam and 5.4 m draught. It was the first ship on the North Sea with DP3 system.
Seven Osprey has undergone an extensive range of works at Remontowa, including six drives with dismantling and overhaul at workshop, full overhaul of two electric motors, three generators, wide program of works on two offshore deck cranes (150- i 40-ton SWL units), overhaul of the diving bell handling system and maintenance of the two diving bells, hull maintenance, full overhaul of the safety systems (navigation, fire fighting), modification of electrical diving support related systems, inspection of coolers, repairs to Cort propeller nozzle, some steel replacement in tanks, galley sewage piping replacement, sanitary piping cleaning and other minor works.
The vessel departed from the shipyard on February 15.