Drewil: SAFETY BY QUALITY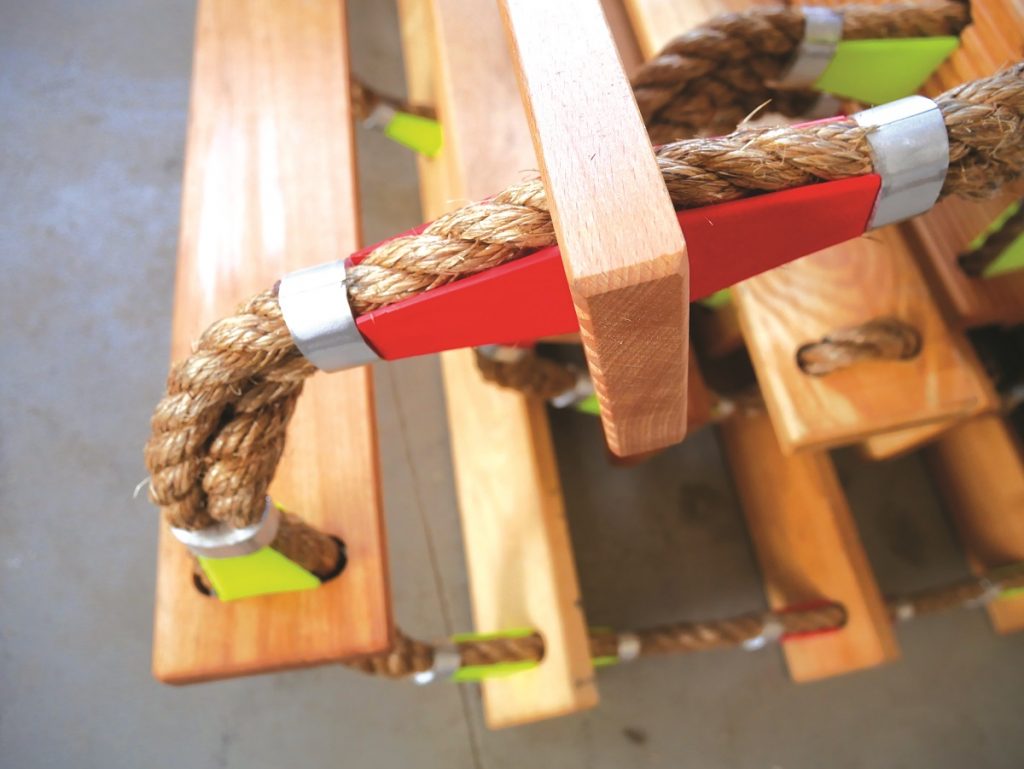 Drewil is a family-run company specializing mainly in marine rescue equipment, especially in pilot and embarkation ladders. Drewil has been present in the shipbuilding industry for over 35 years.
Its motto "Safety by Quality" sets the company's idea and shapes the production profile. And ensuring the safety of life at sea according to the SOLAS Convention is implemented in every product.
To determine how important maritime safety is, I will describe the aspects of pilot boarding a ship.
Pilot's transition from a pilot boat to a pilot ladder hanging on the ship's side in conditions of a rough sea is the most difficult and the most dangerous moment in the pilot's work.
Maximum comfort and safety should be provided to the incoming pilot by means of backup from an assistant and equipment that will not fail in the worst conditions. It happens that a pilot ladder, not attached to the board by Yellow Pilot Magnet, performs a dance, is difficult to grasp and the jump is very troublesome.
A pilot who enters a ship's side of a height of several meters undoubtedly experiences stress – especially in conditions of strong wind and high waves. If at first glance the ladder is technically functional, has the right geometry of ropes and steps, is not worn, the ropes are "healthy", then the pilot enters the equipment with confidence. If this is not the case, stress increases and accidents can occur. The pilot can resign from entering, demanding functional, new equipment. This is an additional cost and a waste of time for the ship to enter the port.
Ladders must be inspected on an ongoing basis and replaced as necessary.
All our ladders are marked with a Wheelmark, which indicates that the marine product is approved for everyday use. The Maritime Office inspects all manufacturers who have been awarded this mark. This is why we would like to present to you our flagship product: Pilot ladder & Embarkation ladder, which meet all the required safety standards.
Features of our flagship products that increase pilot and ship safety and at the same time distinguish our product from competitive products are as follows: Ladders have increased stiffness due to extended wedges. They are made of the best quality materials, that is first class wood dried to 9% moisture content, manila rope 1 Grade, HDPE wedges, durable rubber steps. In order to stand out from the competition, ladders have bright and fluorescent elements that are better visible day and night.
We have designed a special anti-slip profile to increase the coefficient of friction when entering. And the rounded edges of all the steps help to avoid injuries while climbing the board. Our ladders have increased durability. They are tested with a minimum force of 880 N and more – up to 1000 N per each step.
We also remember about ecology because hand braided ladders can be 100% recycled and the original manila rope from the Philippines used by us is made of natural fibres of Abaca plant.
We supply different types of ladders for different types of ships:
Seizing system – the braided sleeving at the steps is handmade by means of a thin 4 mm rope, which allows easy replacement of 1-2 damaged steps in the ladder. This extends the production process but this an advisable solution on tankers, where there can be no metal elements.
Clamping system – mechanical clamping of aluminium connectors on ropes at steps. Quick assembly for immediate express deliveries. In this solution, we are the only ones who offer the possibility of replacing damaged steps. This system is more economical and used on most ships.
Double ladders are ideal for ferries and ro-ro ships because more people can get off the ladder at the same time.
Our ladders have the WHEELMARK and all necessary certificates recognised worldwide and in accordance with SOLAS, DNV-GL and RMRS.
We have distributors all over the world: in Europe, USA, Middle East, Baltic states, Russia and Asia and thanks to them we can shorten the delivery time as much as possible. We also offer direct deliveries to our large customers.
Drewil is a Polish family-run company in which the design, technology and operational process have been improved from generation to generation. We know how important it is to be safe on board because we have sea and sailing practice in our family.
We use approx. 35,000 linear meters of manila ropes per year and have produced approx. 30,000 linear meters of ladders. Our other product range is: working ladders, ladder accessories, pilot magnets for ladders on the side, aluminium ladders, gangway nets, rescue nets, scramble nets, collision mats, day shapes. Our products are gaining more and more market share in the world, mainly through the presentation at the SMM Marine Fair in Hamburg, where we have been traditionally for many years, at BALTEXPO in Gdańsk, or POSIDONIA in Athens. We would like to present ourselves in Amsterdam, Oslo and St. Petersburg. Our unique solutions, experience and stability is a guarantee of long-term cooperation and development.
www.drewil.pl 
phone: +48 58 681 50 21
Mobile: +48 501 713 255
Authors: Janusz Wilkowski & Krzysztof Wilkowski