Record number of ships in Remontowa Shiprepair Yard SA!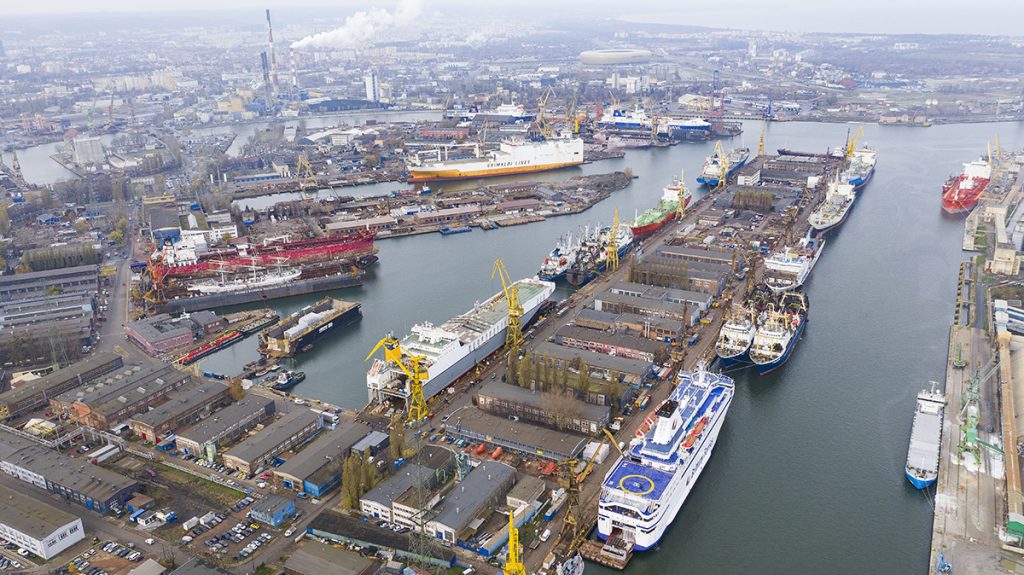 Remontowa Shiprepair Yard S.A from the Remontowa Holding Group is currently repairing or converting 25 units of various types. The shipyard has been ranked the 6th in the world in terms of scrubbers retrotits on ships.
Among the vessels being repaired and converted are: tankers, bulk carriers, chemical carriers, fishing vessels, ro-ro, reefer vessels, as well as five car-passenger ferries.
Three ships are being equipped with ballast water treatment systems. This is a relatively young field of shipbuilding services, which started to develop a few years after the adoption by the International Maritime Organization (IMO) of the international convention on the control and management of ballast water and marine sediments (Ballast Water Management Convention). The shipyard is one of the first companies on the European market to install these systems, which it started to install on ships as early as in 2007.
The shipyard is also a leader in equipping ships with flue gas desulphurisation systems, i.e. scrubbers, which limit sulphur oxides emission in exhaust gases to the atmosphere. Currently, they are installed on three chemical tankers, a combined/ro-ro container ship and a passenger-car ferry.
According to a survey of the shipyards performing the most scrubber installations on ships, recently published by the British analyst Clarksons Research, Remontowa SA among the 12 world's leading shipyards in this respect was ranked 6th and 2nd among the non-Chinese shipyards.
This year, the shipyard was also visited by vessels of the unusual type: ORP Bielik and the ship-museum Dar Pomorza.
ORP Bielik is a Kobben type navy submarine. Work in the shipyard focuses on a few of the most important ship systems and maintenance. On the other hand, on the Dar Pomorza sailing ship-museum the shipyard carries out, among others, cleaning and painting of the hull, inspection of the underwater part, inspection of rivets on the hull, measurements of structural plates, inspection of propeller, inspection and maintenance of rigging, replacement of plating if they are rusty, maintenance of lifeboats, as well as repair of fire-fighting system and monitoring system.
AL
Fot.: Marcin Koszałka