Partially equipped patrol ship from the Crist shipyard for Piriou in France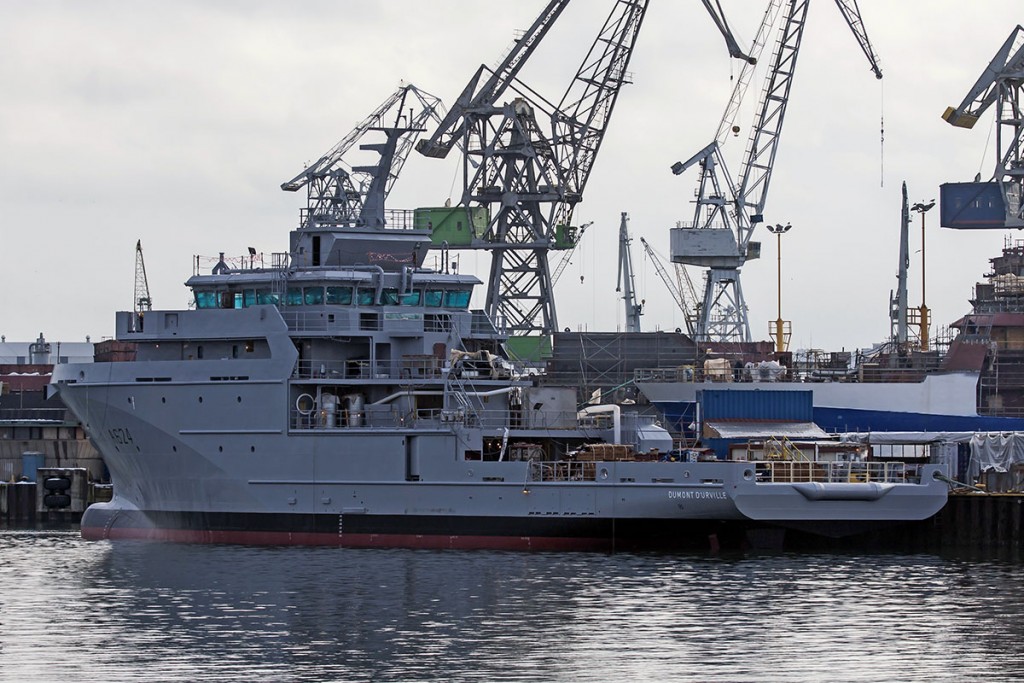 On January 17, 2018, a partially equipped auxiliary naval ship intended for the French Navy as the final recipient, was floated out from the graving dock of Crist SA yard (former Gdynia Shipyard SDII dry dock).   The ship for Marine Nationale, newbuilding no. 334, was built in Gdynia, as partially equipped, to the order from Piriou shipyard (Chantiers Piriou), France. After last finishing and outfitting works, it will be towed to Concarneau on the southern coast of Brittany.
The ship in question is Dumont d'Urville (A624) – the last of the four "D'Entrecasteaux" class ships ordered (the previous units were D'Entrecasteaux (A621), Bougainville (A622) and Champlain (A623) delivered in 2016-2017 ).
According to some sources, hulls of all "D'Entrecasteaux" class vessels, not only Dumont d'Urville, have been built in Poland.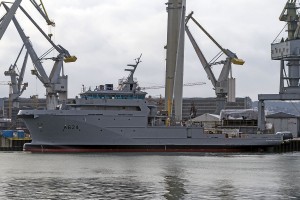 These are ships known as "Bâtiment Multi-Mission (B2M, "multi-task ship") or as OPV (offshore patrol vessels / offshore protection vessels). Their multitasking and operational flexibility was reflected in their nickname "Swiss Army knife."
They are to serve, among others, to exercise and render French maritime sovereignty, law enforcement (e.g. combating piracy and drug trafficking), logistics and humanitarian missions, protection of fisheries in exclusive economic zones, combating illegal fishing, ensuring safety and protection of fishing and exploitation of natural resources, protection traffic on sea routes, helping ships in emergency. They can also be used for SAR (Search and Rescue) tasks and provide logistical support in the overseas territories of France, former colonies and areas with a special status related to France.
The ships were contracted by a French Navy at Kership consortium formed by Piriou and DCNS. The DCNS concern (until recently known as the Naval Group) has taken on the military aspect of the project. Piriou is responsible for the general design of ships and for finishing and outfitting in Concarneau as well as for sea trials of ships. The Polish ship design and consulting company, Seatech Engineering Ltd., also participated in the design work.
Ships in this series are characterized by relatively low speed, and at the same time quite long range and high autonomy of 30 days and low operational downtime, with about 250 days expected at sea during the year. The rescue functions are supported by the configuration and equipment of an ocean tug and bollard pull of 30 T, as well as wide range of fire-fighting equipment.
"D'Entrecasteaux" type patrol and logistics ships can be equipped with two 12.7 mm machine guns.
They are characterized by a total length of 65 m, a width of 14 m, a 4.20 m draft, a speed of 15 knots and a full displacement of 2,300 tons.
PBS
Photos: Piotr B. Stareńczak