Luxury "Black Pearl" in Gdansk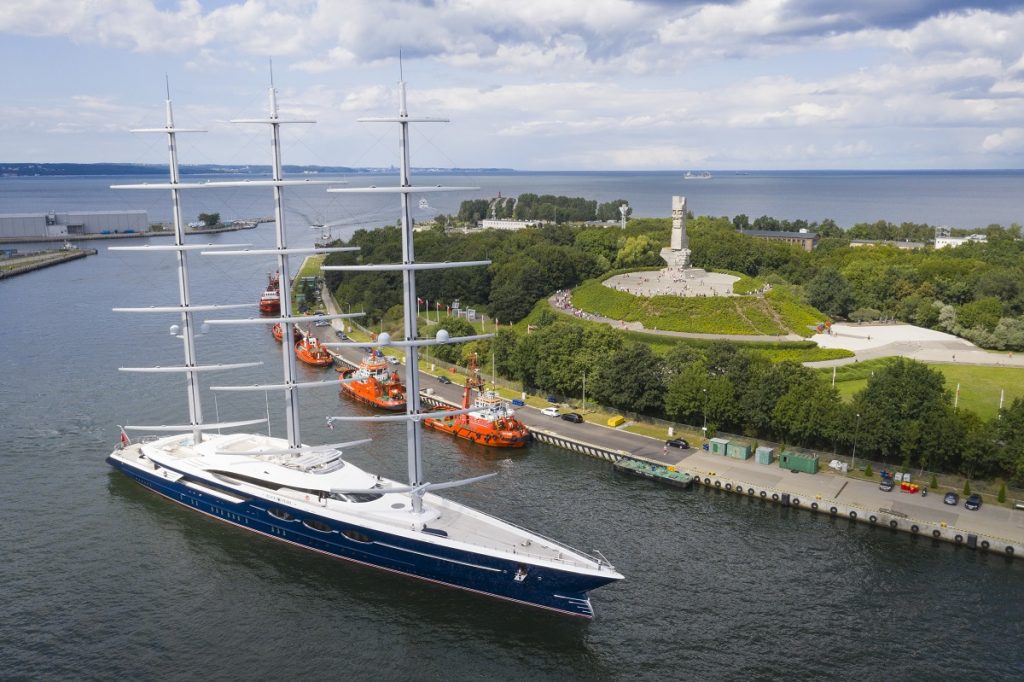 On Wednesday, August 14th, the Black Pearl luxury three-mast sailing yacht moored at the Westerplatte Defenders' Embankment in Gdansk. It is the largest private sailing yacht in the world. Interestingly, the aluminum superstructure was made in Poland. Probably the visit is of a technical nature, and on board there is only the crew, without the owner and guests.
The yacht will probably stay in Gdansk until Sunday evening.
Black Pearl is considered to be the largest private – shipowner (not charter) sailing yacht in the world, the largest superyacht, designed to travel by sail only, and the largest vessel equipped with a DynaRig type sailing. It is over 106 m long and has a total area of 2900 m² of sails that can be set up in 7 minutes.
The yacht is designed by Ken Freivokh Design, Nuvolari Lenard and Villate Design. Dykstra Naval Architects designed three 70-metre high carbon fibre DynaRig masts. Dykstra and the shipyard – Oceanco – are the technical authors of the overall design of the yacht.
The hull was built by Zwijnenburg BV of Krimpen a/d IJssel, the aluminium superstructure Aluship Technology Sp. z o.o. of Gdansk, which also carried out the technical and detailed design of the superstructure, and the main contractor and outfitting shipyard was Alblasserdam Yachtbuilding BV – Oceanco of Alblasserdam in the Netherlands.
In addition to the main – sailing – yacht also has an auxiliary mechanical drive (with propeller) hybrid type (with diesel engines and battery). It was designed, like the waste heat energy recovery system, by BMT, Nigel Gee in collaboration with Oceanco shipyard.
The hybrid, combustion-electric drive system, with the possibility of energy recovery, consists, among others, of two engines type MTU 12V2000M72. When the wind is strong enough, the propeller can be used as a rotor to drive the generator. The energy generated can reduce the consumption of energy generated by traditional sources (generator sets).
The yacht, built at a cost of about USD 200 million, according to many sources belongs to the Russian oligarch Oleg Burłakov, the former owner of Burneftegas (sold to Bashneft for USD 1 billion). Formally, the owner of the superyacht is Divergent Yachting Ltd from Great Britain.
AL, PBS
Photo: Marcin Koszałka, Agnieszka Latarska / PORTALMORSKI.PL