Green Port of Gdynia supports alternative fuels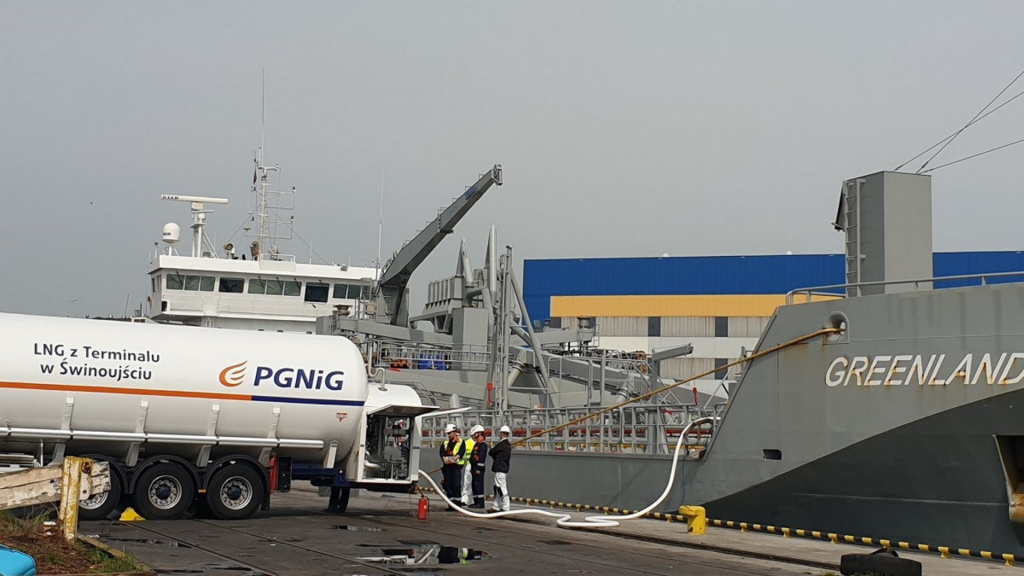 Another bunkering of LNG of the Greenland cement tanker, which is a standard service for ships serviced by the Port of Gdynia.
The implementation of this service was a response to the needs of the market, which, due to restrictions resulting from emission standards, very quickly changes the technologies used in maritime transport.
LNG is one of the cleanest fuels available on the market, which positions the Port of Gdynia as a green port in the trans-European TEN-T core network. According to the directive on the development of alternative fuel infrastructure, by the end of 2025 at the latest, maritime ports in Poland are obliged to provide this type of service.
LNG will also gain in popularity due to the adoption of the so-called sulphur directive. The European Commission plans to eliminate all emissions from maritime transport by 2050. For Central and Eastern Europe, this means stricter standards than in other parts of the world. The so-called sulphur directive imposes an obligation on shipowners whose ships sail in the SECA (Sulphur Emission Control Areas) area, including the Baltic Sea and the North Sea, to use fuels with a sulphur content not exceeding 0.1%.
The synergy in the area of cooperation with LNG, i.e. cooperation between the Port of Gdynia Authority, PGNiG and Grupa LOTOS, resulted in the possibility of LNG bunkering in the Port of Gdynia, which was a pioneer in creating the bunkering procedure in Poland. A technological manual was developed to enable bunkering operations on ships calling at Polish ports.
The development of alternative fuels is very dynamic. Another green fuel is hydrogen, which can be produced by electrolysis directly from water. The source of this renewable energy can be wind or sunshine.
Vessels can also be driven by fuel systems based on the use of liquid biogas (LBG) produced e.g. from fish waste, used frying oil or household waste. The Dutch company GoodFuels, which has already received orders for this year after successful attempts to use this type of fuel on the Norden oil tanker, is betting on biofuels for ships.
The fact that, in addition to LNG and hydrogen, the time has come for industrial waste, which will serve as a link in the closed circuit, is extremely pleasing, as there are unlimited deposits. However, scientists at University College London believe that the real marine fuels of the future that shipowners should rely on today are hydrogen and ammonia.
Ammonia, as a compound of hydrogen and nitrogen, is produced by electrolysis from water and air, 73% of which is nitrogen. Australia is already building the first factory in the world where ammonia will be produced as a marine fuel.
Rel (Port Gdynia SA)