Gibson: 27 LNG-fuelled ships ordered this year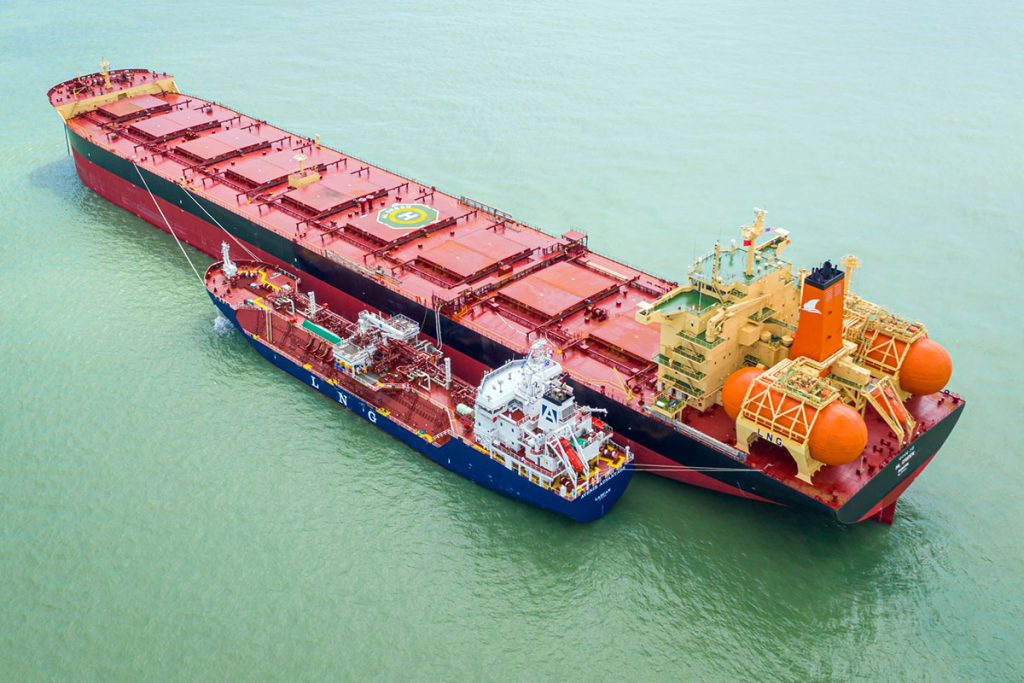 Twenty-seven ships powered by liquefied natural gas (LNG) have been ordered this year, according to London-based shipbroker Gibson. Fourteen tankers, nine container ships, two general cargo carriers and two Pure Car Carriers (PCCs). The classification society DNV estimates the number of LNG-powered ships ordered this year to be even higher.
IMO figures show that the current order book for blue-fuelled ships is already over 130 vessels. This trend confirms the belief that LNG plays a key role in the transformation of shipping, as a fuel in the mid-term transition phase leading to the intended goal of zero-carbon maritime transport.
Interest in this fuel is evident primarily in orders for larger vessels, including very large crude carriers (VLCCs), suezmax and aframax tankers, large container vessels (ULCVs) and newcastlemax bulk carriers.
As Gibson Shipbrokers explains, tankers and bulk carriers are particularly suited to LNG as a fuel because bunker tanks can be placed on deck with limited impact on cargo capacity.
LNG-powered bulk carriers
Orders for LNG-powered bulk carriers also appear to be on the rise, as a number of mining companies have announced that they have ordered or are negotiating the construction of such vessels. These negotiations include, for example, the construction in Chinese shipyards of up to 12 bulk carriers of 210,000 tonnes each, which will transport iron ore between Australia and China as part of Project Orion. Their delivery is expected to begin in 2023.
– The order book for LNG-fuelled ships continues to see new takers as shipowners recognise the direct benefits of the fuel. However, the question of how long it will take for alternative fuels such as ammonia, methanol and hydrogen to become a reality and begin to take market share from LNG in new ship order books is becoming increasingly difficult to answer, Gibson reports.
– While hydrogen is seen as the next generation fuel for shipping, other fuels will begin to potentially impact the shipping sector over the course of this decade. As with the transition to LNG, the transition to new fuels will be based on vessel replacement and fleet expansion, meaning that a full transition to renewable fuels could take several decades. In the meantime, LNG will continue to be an alternative to conventional fuels in the medium term, Gibson concludes.
Even more ships, according to DNV
However, DNV says that 50 new LNG-fuelled vessels have been ordered since the start of the year, with March proving to be a record month for the number of LNG-fuelled vessel orders.
In fact, 21 LNG-powered ships were contracted in March alone, the highest monthly figure since DNV began keeping records of ships powered by alternative fuels in 10 years, TradeWinds reports citing DNV.
Among the vessels contracted last month were thirteen large oil tankers (VLCCs) at Daewoo Shipbuilding & Marine Engineering shipyard. Ten of these are chartered by Shell. Three others are upgrades by Adnoc Logistics & Services for three new VLCC vessels ordered from the yard late last year.
Two dual-fuel capesize bulk carriers were ordered by Anglo American from Shanghai Waigaoqiao Shipbuilding.
The March order also included two cruise ships – one for Asuka Cruise, a joint venture between NYK Line and Anchor Ship Partners, and one for Storylines.
According to DNV, the approximately 50 LNG-fuelled ships ordered in the first quarter are a similar number of ships contracted for the whole of 2020.
Shipowners are looking to decarbonise their fleets, however, offering other alternatives. In March, Australian company Fortescue Metals Group abandoned a tender to charter LNG-powered vessels in favour of environmentally friendly ammonia-powered vessels.
rel. PortalMorski.pl
Photo.: Peninsula, CMA CGM