Espersen purchases Royal Greenland plant in Koszalin as part of strategic partnership
Espersen, the world leading whitefish processor, and Royal Greenland, the leader in North Atlantic seafood, have announced the signing of a long-term strategic partnership, mid-June 2017. The partnership consists of two main elements. Firstly, Royal Greenland will enter into a long-term processing contract with Espersen for flatfish, whitefish and value-added consumer products. Secondly, Espersen will purchase Royal Greenland's plant in Koszalin, Poland, which employs approximately 1,000 employees.For Royal Greenland, the partnership allows further focus on and investment in its fishing, processing, sales and marketing of North Atlantic species such as cold-water prawns, snow crab, Greenland Halibut and Greenlandic cod.
For Espersen, the partnership supports the strategy of offering a full assortment of delicious seafood to international customers.
CEO Klaus B. Nielsen, Espersen A/S says: "We are proud and happy that Royal Greenland trusts us as a strong, strategic partner. The partnership means that we now have facilities in place to support our growth strategies in retail and food service. The new capabilities and competences in flatfish processing and value added products enhance and strengthen our position as a leading player in the seafood industry and underline our ambition to be preferred category partner with a full assortment of natural and value-added products."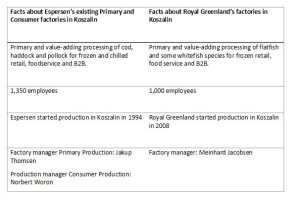 CEO Mikael Thinghuus, Royal Greenland A/S says: "We are very pleased to enter the processing agreement and to pass on ownership of our operations in Poland to Espersen. We have known Espersen for many years, we share the same values and we are convinced that Espersen is the right partner. The products of Koszalin are important to many of our customers and to Royal Greenland, so it has been key for us to find a partner whom we can trust to deliver products at a high level of quality and timeliness and at a reasonable cost.
We believe that Espersen, who is already our neighbour in Koszalin, will be able to move the combined production forward better than we would have been able to on our own to the benefit of both our customers and employees. In addition, we free up resources to further focus on our vertically integrated North Atlantic businesses."
The agreement and change of ownership becomes effective on 1September 2017.
The Royal Greenland plant continues to operate with the current organisation and leadership and complements the Espersen plants in Koszalin, employing more than 1,350 people in primary processing and value-adding activities. The two factories are about equal in terms of production capacity of value added products, and the partnership makes Espersen one of the largest employers in the Koszalin region.
Royal Greenland continues to purchase and supply raw materials for the Royal Greenland products produced in Koszalin.
rel (Royal Greenland, Espersen)