Eight Shipbuilding & Offshore lectures at PROCAD EXPO 2019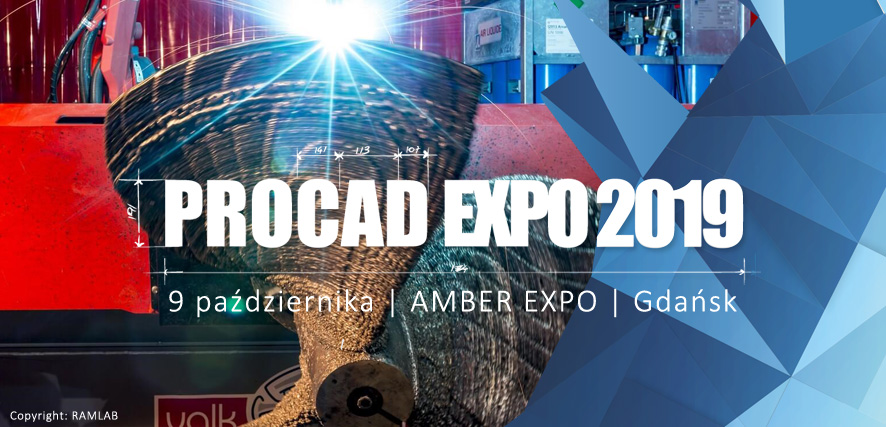 PROCAD EXPO 2019 is the 27th edition of the biggest CAD/BIM technology conference and exhibition in Poland. This year it will be held on October 9th, at the AMBER EXPO Conference Center.
PROCAD EXPO is an event bringing together designers, engineers, architects, company owners and specialists from leading design studios, service manufacturing companies from Poland and abroad.
This year the Shipbuilding & Offshore path appeared on the agenda – below selected topics from this path, and the full agenda can be found on the website: www.procadexpo.pl (participation in the conference is free of charge).
Retrofit projects of marine systems using reverse engineering and classic and advanced design methods (Recap, Plant, Advance Steel, Navisworks). Visualization of results in Virtual and Augmented Reality. – Nava
Metal parts on demand with high-rate additive manufacturing for Ship/Maritime Repair [RAMLAB]. – Lieven Grauls | Autodesk
Innovative approach and proven solutions in the field of design (CAD) of on-board equipment for the Offshore area – Piotr Burzyński | PROCAD
Shipyard production organisation, management and planning (PLM/BIM). – Radosław Cieślak | Autodesk
How to increase the number of winning orders using Autodesk solutions. – Przemysław Sokołowski | Autodesk
How to design pipe systems in the shipbuilding industry? Autodesk P&ID and Plant in action. Technological diagram, model, isometric documentation. – Daniel Sierocki | PROCAD
Areas of use of modern BIM tools for the design of steel structures (including offshore structures). – Tomasz Białek | PROCAD
Agenda and registration: www.procadexpo.pl
PROCAD EXPO 2019
9 October
AMBER EXPO, Gdańsk
ul. Żaglowa 11