Custom made earplugs for the shipyard industry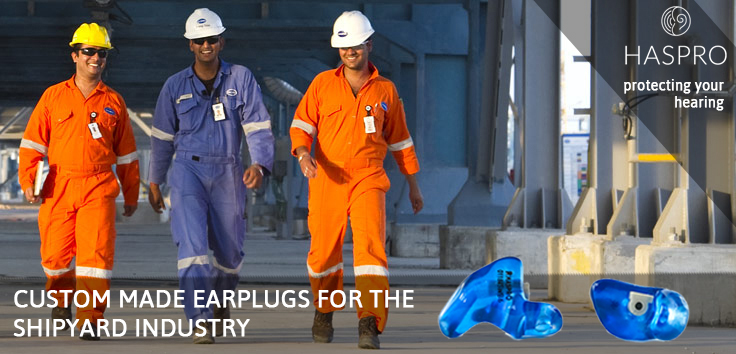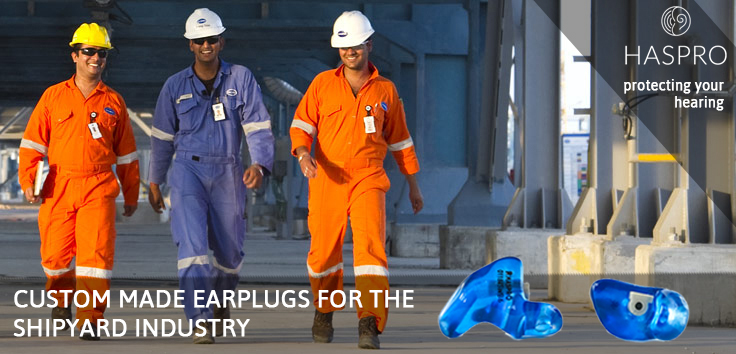 When working in the shipbuilding industry or in shipbuilding plants, it is important to remember about effective hearing protection.
Workplace noise is a problem that is usually not prevented by the employer, and therefore it is not possible to ensure that employees can reduce noise to a safe 'outside' level.
Get maximum protection with individually tailored hearing protectors.
HASPRO Personal Hearing Protectors
The best solution is to obtain individual hearing protectors, i.e. custom-made earplugs based on the casting of the ear canal. For industrial use, HASPRO STATIC earplugs are the most appropriate solution for all hearing protection problems in the shipbuilding industry. These earplugs are made of durable acrylic material, resistant to weather conditions and comfortable to use – even at high temperatures, e.g. in the engine room. Acrylic reduces the discomfort associated with inevitable contamination and settling dust. It is also less susceptible to dirt and extremely easy to clean – just wipe it with something moist.
What distinguishes HASPRO STATIC? Product properties:
– Knowing that there is no single level of noise elimination in the workplace, HASPRO protectors leave audible alarm signals and free communication with co-workers.
– Additionally, ventilation filters are used in the protectors, thanks to which the ear does not sweat, even during long hours of work in high temperatures and high humidity.
– The material itself, from which the STATIC inserts are made, does not heat up, providing the feeling of cooling. This guarantees full comfort of work, without worrying that the protectors will fall out of your ears under the influence of sweat.
– Individual HASPRO earmolds are manufactured on the basis of a moulded ear canal made by a prosthodontist, giving you the confidence that they are 100% compatible with your ears. Thanks to the perfect fit of the protectors, you can work in them for many hours without having to remove them.
– Working in the shipbuilding industry often involves limited space. However, you can't compromise on hearing protection. Personalising the earmolds gives you the feeling of maximum comfort, and the small size keeps them from protruding from your ears, preventing them from getting caught in protruding parts.
– At HASPRO, we care about the practicality of the use of our products. Therefore, each pair of plugs is accompanied by an aluminium box with a serial number of plugs, a fabric case with a clasp, a moisturizing tissue and a stick. Thanks to this, their storage will be safe and hygienic and minimize the risk of loss.
Why tailor-made protection?
In the case of earmuffs, the advantage for the employer is that, thanks to the possibility of adjustment, one piece can be used by several people. However, for an employee, this is not synonymous with comfort. Headphones after a few hours of work become heavy, uncomfortable, and in addition, they cause sweating of ears and head. In addition, they can be dangerous in confined spaces. In turn, foam stoppers for ears, seemingly light and soft, due to their mismatch, become uncomfortable and irritate when worn. They are also not available in sizes, so they can fall out or cause discomfort. What's more, both of these methods have one common, very important disadvantage – the lack of acoustic filters, so they offer only flat damping and a feeling of isolation.
As you can deduce, the above methods do not have much in common with effectiveness. Therefore, if you are looking for maximum protection in your work, choose HASPRO STATIC. These are not words cast into the wind, because HASPRO Hearing Protective Devices are certified in accordance with the European standard EN 352-2:2002 (PN-EN 352-2:2005), the latest Regulation (EU) 2016/425 and the CE mark.
HASPRO earplugs are your guarantee for maximum safety, hearing protection and comfort in the shipbuilding industry!
Order your hearing protectors at haspro.pl