Propellers repairs and bow bulbs replacement on large vehicle carriers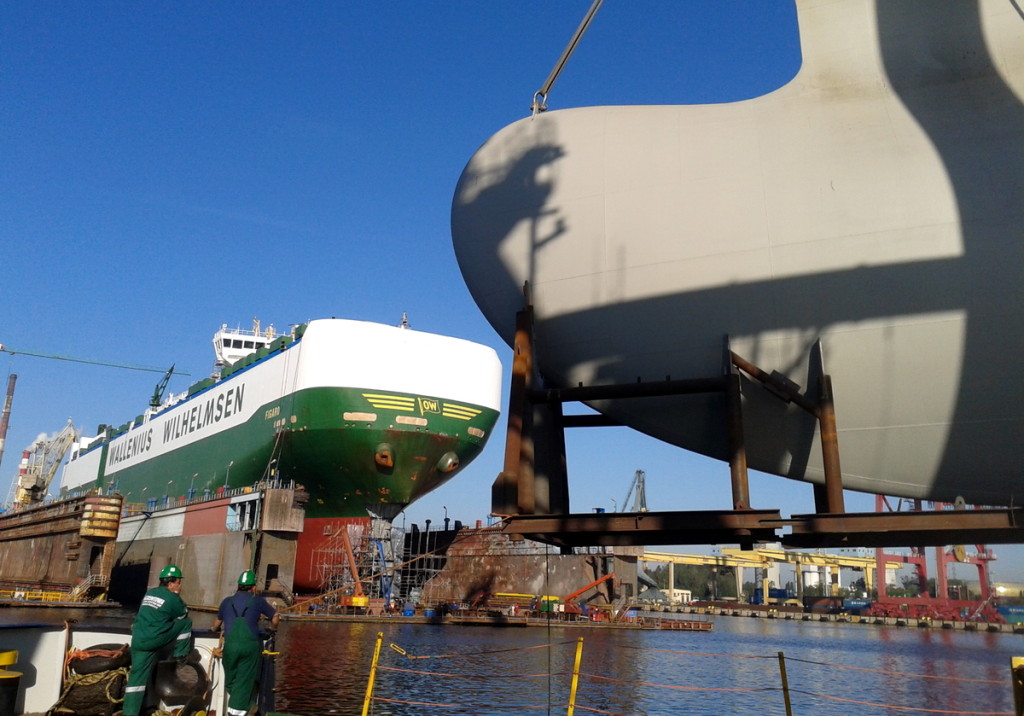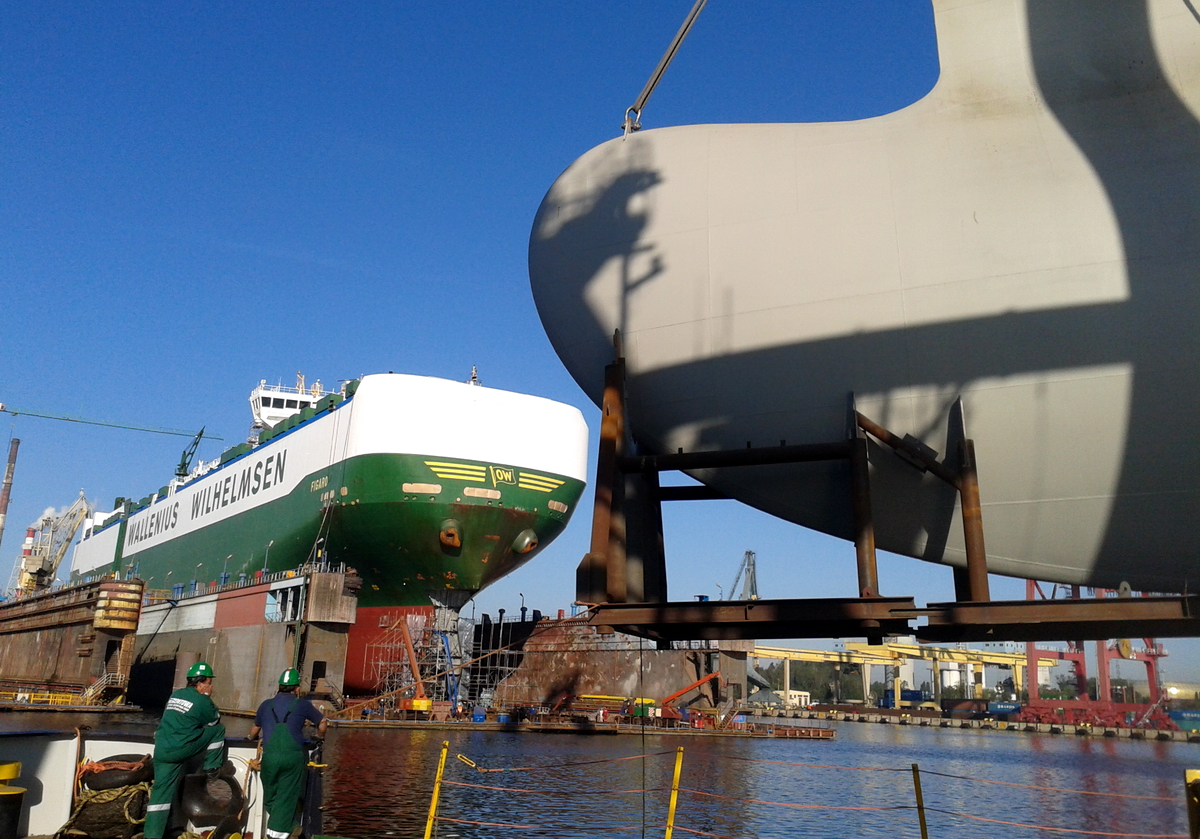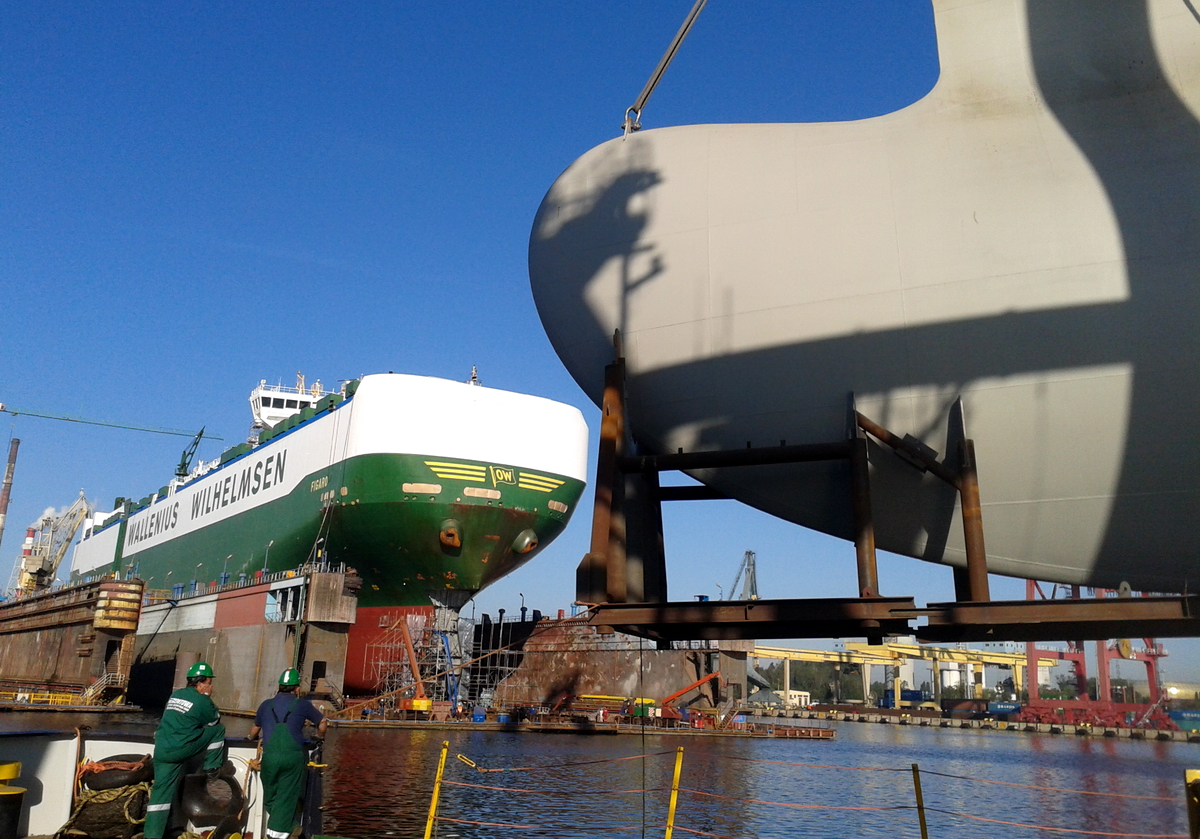 Vehicle carriers – both large, ocean haul and those smaller or medium size ones, for feedering and regional distribution – are regular visitors to the docks of Gdańsk-based Ship Repair Yard Remontowa SA. Several ships of this kind have been serviced at the yard this year already as well. Besides routineous works, a large propeller has been repaired on one of the vehicle carriers and several others have had their bow bulbs replaced with new ones featuring optimised shape.
Emergency repair
In October 2017, class renewal repairs with extensive specification, was carried out on US operated vehicle carrier Honor, belonging to American Roll-on Roll-off Carrier (ARC), with the ship coming to Remontowa SA from one of the Europe's largest automotive logistics sea ports – Bremerhaven. It has not been the first time that the ship visited that yard, though. Two years earlier the largest Polish repair yard carried out repairs on this ship, however without docking. During her recent stay in Gdansk, there have been more work to be done.
Honor is a PC/TC (pure car / truck carrier), thus, on its 11 decks, it may carry both personal cars and heavy vehicles and rolled cargo. It was built in 1996 roku, sailing under name of Takasago until 2005. The ABS classed vessel features 19 844 ton deadweight capacity, 190.5 m overall length, 32.3 m beam, 10.1 m draught and service speed of 13 up to 21 knots.
The works included typical class renewal related tasks, while additionally Remontowa SA had to fix the damaged propeller. It is highly probable, that thick ice hit the propeller and damaged one of its blades.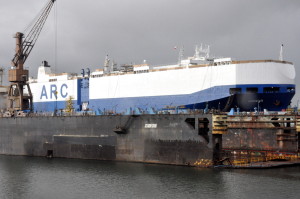 In the next port of call of Honor, after that accident, in emergency, temporary repair, for the purpose of balancing the propeller, 60 cm pieces of all blade tips have been cut off, so with the propeller in such a state the ship entered Remontowa SA.
Honor was lifted on dock no. 6, where the 22 ton propeller was dismantled and transferred into a one of the shipyard's workshop halls. The repairs have been carried out by the manufacturer, UK based Stone Marine, supported by the yard's specialists.
They machined new propeller blade tips, to replace the ones removed earlier in emergency repairs. The material the propeller is made of is Nikalium (alloy of copper, aluminum, nickel, iron and manganese). The new tips have been welded to blades and subsequently, the blades balanced and polished. Renovated propeller, looked shiny gold, just like a brand new one. The works have been carried out under supervision of ABS class society.
Remontowa SA assists shipowners in keeping fuel costs down
In 2016 Remontowa SA has also been replacing bulbous bows on vehicle carriers and other ships.
Ship operators and owners worldwide, strive to cut their ship operating costs, looking for savings also in fuel consumption. Hydrodynamic optimization of the bow bulb shape, reducing drag in transit, may contribute to fuel consumption reduction, thus enabling operating costs cutting.
Remontowa SA has been performing operations of fabrication and replacement of bow bulbs for many years now. Previously, they replaced bulbous bows on ferries, such as Stena Vision, Stena Germanica, Stena Danica and Stena Spirit. More recently, Swedish based Wallenius Marine, one of the leading European owners, decided to bring their ships to the Polish yard for such replacement operations.
During April 2017, a new bulb was installed on Swedish vehicle carrier Carmen and in September – on a sister vessel Figaro. Both vessels are among the world's largest in their class, with impressive length of over 231 m.
In line with the ships' size, also their bulbous bows look impressively large. Previously Remontowa SA built such hull structures weighing up to 70 ton and up to 9 m tall. This time, with large PC/TC's Carmen and Figaro, bow bulb sections fabricated and installed at the yard were 120 ton each and 13 m tall.
Operation of dismantling the old bow section, fabrication of a new section as well as its careful transfer and precise installation was each time facilitated by know-how, experience and skills of the Remontowa SA yard employees and last, but not least – by the yard's own floating sheerleg crane REM-220, able to lift and carry structures of over 200 ton in weight.
PBS