Tomorrow, on 20 April 2021 from 9.00 to 12.00, the European GreenMarE conference will be held for the first time in Gdansk, dedicated to "green" technologies that reduce ship emissions in line with the objectives of the new global climate policy.
The GreenMarE conference will be one of the events accompanying the InterMarE South Baltic Maritime Fair. Like the fair itself – due to the ongoing coronavirus pandemic – it will be held in the online format.
The event is organised by the FORUM OKRĘTOWE Employers' Association, the International Gdansk Trade Fair S.A. and PORTALMORSKI.PL Sp. z o.o., and held under the honorary patronage of the Embassy of Norway in Poland, SEA Europe – The Shipyards' & Maritime Equipment Association of Europe, DNV classification society and the Mayor of Gdansk.
We are facing huge changes in maritime transport due to the decarbonisation of shipping. They raise many questions:
Are we ready for a "green revolution" in maritime transport?
Can the technical solutions keep up with the climate targets that have been defined by politicians?
COVID-19 – can the decarbonisation of shipping be an opportunity for a shipping industry plunged into a pandemic recession?
Are standards and regulations ready according to which zero-emission vessels are to be designed and built?
Europe is a very active pioneer of change – but what about the rest of the world?
Who will pay for all this?
Opening speeches will be given by: Anders Eide, Ambassador of Norway to Poland, Christophe Tytgat – Secretary General of SEA Europe (The Shipyards' & Maritime Equipment Association of Europe – and Knut Ørbeck-Nilssen – CEO of DNV Maritime.
Panellists will include: Eirik Nyhus, Director of Environmental Affairs of DNV, Christophe Tytgat (SEA Europe), Hege Økland – President of NCE Maritime CleanTech, Dariusz Jaguszewski, Ship Designer and Board Member of Remontowa Shipbuilding and Sigvald Breivik, Technical Director of Norwegian shipowner Norled.
The conference will be held in English (with translation into Polish available for participants) and will be conducted online as a live broadcast and will be open to the public.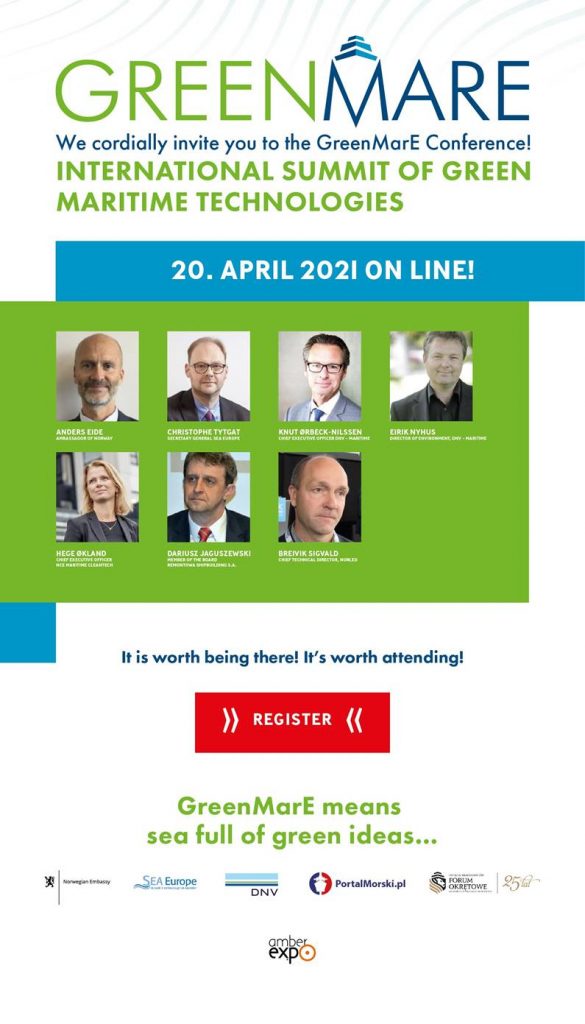 To participate in the conference, please register by clicking on the link below: