Polish Sailing Association Cup
Three days of racing in mostly strong wind, a lot of emotions and, above all, learning for young sailors – this is how the first part of the Polish Sailing Association Cup regatta, which ended yesterday in Krynica Morska, can be summed up. Sailors and sailors in the 29er, 420, Europa, L'Equipe, Nacra 15, Hobie Cat 16 and A-Class classes took to the starting line.
The most thrilling for the fans were the sailors of the 420 and 29er classes, where the fight for victory went on until the last race. In 29er class before yesterday Magdalena Chyła and Oliwia Jekiel (Nauticus YC Olsztyn) had two points advantage over male crew Gustaw Miciński and Mateusz Gwóźdź (Yacht Klub Polski Gdynia). Yesterday's day was not so successful for the young sailors though, as the conditions favoured the heavier crews. Magda and Oliwia finished 5th, 6th and 3rd in their races, which resulted in their third place. Gustaw and Mateusz, who finished first in all yesterday's races, won the competition. Second place was taken by Gerard Polaczyk and Kacper Jaskuła (KŻ Mewa Poznań / Jacht Klub Wielkopolski).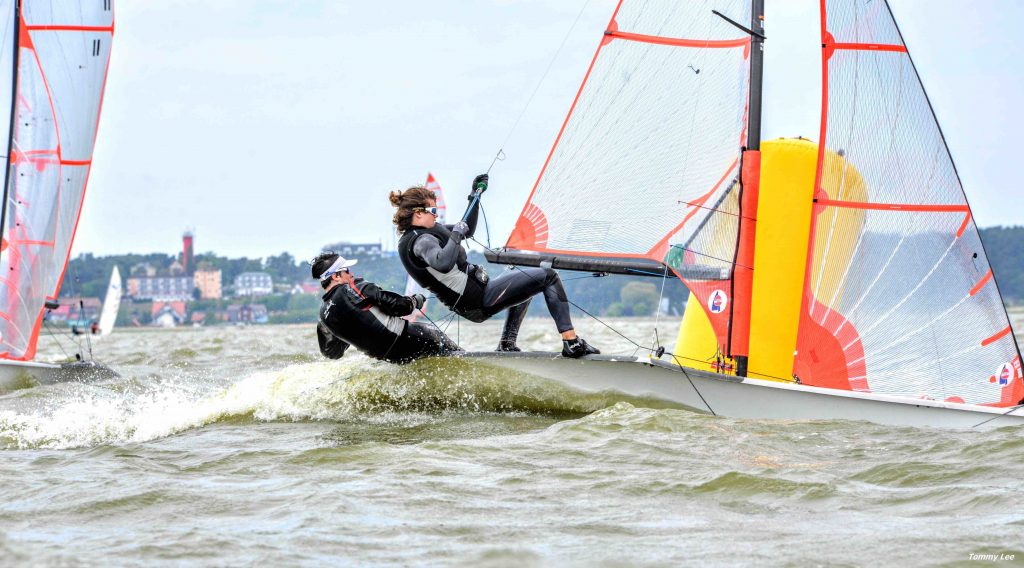 Today were our conditions. Our goal was to make up for the losses in the first two races and in the third race to deal with match racing with the crews that threatened us. We managed to fulfil our plan. It was a difficult regatta in demanding weather conditions, rivals set the bar high and I am very pleased, so the victory in such circumstances is very valuable. Now, we have a start in a much bigger boat, because as members of the Sailing Poland crew we are going to the first stage of The Ocean Race Europe,' said Gustaw Miciński yesterday.
The competition was even fiercer in the 420 class. Before Sunday's races the lead was held by the female team of Agnieszka Pawłowska and Dominika Ołowiak (Chojnicki Klub Żeglarski / Olsztyński Klub Żeglarski). However, the girls in the last races failed to repel the assault of Ludwik Grzelak and Tomasz Lewandowski. The crew of Olsztyn Sailing Club won two out of three races and as a result in the general classification both crews gathered the same number of points and the victory of Ludwik and Tomek was decided by the greater number of races won.
Agnieszka and Dominika were left with a consolation prize in the women's classification, in which Paulina Rutkowska and Iga Wielczyk (YKP Gdynia / MOS Iława) were second, and Ewa Lewandowska and Maria Konarzewska (AZS AWFiS Gdańsk) were third.
Third place in the general classification and second place among men went to Rafał Pogorzelski and Filip Fajfer (Giżycka Grupa Regatowa / MKS Dwójka Warszawa). Third place in the men's crew classification went to Jeremi Dąbrowski and Mikołaj Bazyli (KSW Baltic).
It was an exciting competition with the girls, but today's conditions favoured us more. We are quite heavy and in strong winds we have an advantage, which we used today. We fought for the victory until the last meters because we started the last race poorly and got stuck far in the pack. We had to make up for the loss and at the same time keep an eye on Rafał and Filip, with whom we are competing for the start in the youth world championships. Fortunately, everything went our way – said Ludwik Grzelak and Tomasz Lewandowski.
In the remaining classes there was much less excitement, the favourites won by a large margin. In Europa class six out of eight races were won by Damian Sieczkowski (ŻLKS Poznań), in A-class class five out of seven races were won by Tymoteusz Bendyk (Navigo Sopot), in Hobie Cat 16 class as many as 10 races were won by Tomasz and Marta Mostowscy (Sail & Ski Warsaw / PSK Hobie Cat). In Nacra 15 class Pola Szadziul and Szymon Cierzan (Navigo Sopot) led from the beginning to the end, while competition in L'Equipe class was dominated by Antoni Kuźmiński and Hanna Kuliś (Baza Mrągowo).
This result is the effect of many hours sailed and worked together. We usually sail on the Czos Lake in Mrągowo, where the conditions are completely different than here on the Vistula Lagoon, that is why we came to Krynica Morska a little earlier for a training camp to prepare well for this regatta. We have been sailing together since October, we understand each other on the boat very well and we are very happy with the progress we are making, say Antoni and Hanna.
In the first part of the Polish Sailing Association Cup mostly junior sailors took part.
The second part of the Polish Sailing Association Cup in Krynica Morska will be held on 28-30 May. Men and women sailors will compete in the following classes: 49er, Laser, Laser Radial, Laser 4.7, Finn, Ok Dinghy and 470.