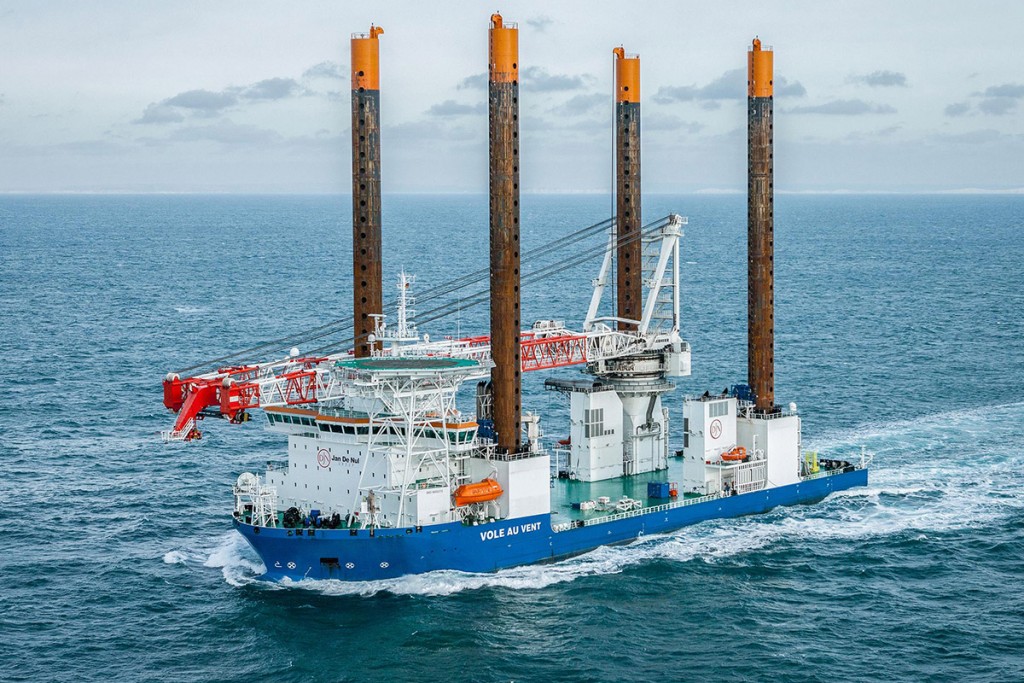 Wind turbine installation ship or heavy-lift jack-up vessel (HLJV) Vole au Vent arrived at the port of Gdynia based yard on October 10, afternoon, for modifications. As announced on September 12, 2017, Nauta Shiprepair Yard has signed a contract with a new client. The shipyard will modify Vole au Vent wind turbine installation vessel belonging to the Jan De Nul – one of the biggest companies specializing in dredging and marine construction activities, as well as in services for the offshore industry.
Under the contract, Nauta Shipyard will perform a number of works on the ship, which will increase the working deck area and prepare the vessel for the execution of the new contract. The total weight of the newly installed structures will be about 600 tons.
Jan De Nul Group is a leading expert in dredging and marine construction activities, as well as in specialized services for the offshore industry of oil, gas and renewable energy. Its fleet includes over 400 modern vessels dedicated to dredging and marine construction works.
Vole au Vent was built in 2013 in Poland, at Crist yard, as a Vidar. The vessel has 140.4 m in length and 41 m in a beam. The vessel is equipped with four 90 m high, 4.8 m diameter legs to lift itself above the sea level for stable working without the impact of the waves. The lifting capacity of its Liebherr crane of up to 1,200 tonnes enables swift and safe installation of the heaviest foundations and other components of offshore wind farms. The vessel can install all kinds of foundations, as well as the latest generation of wind turbines, in water depths up to 50 m. Vole au Vent operates maximum speed 11 knots.
rel (SR Nauta)
Photo: Jan de Nul