How much does ORP Sokół weigh?
The Stocznia Wojenna (Naval Shipyard) is continuing work on adapting the ORP Sokół (t. Kobben) submarine for its museum role, exhibited in Gdynia as a monument to the technology and history of the Polish Navy.
The submarine has recently been weighed, as both its total weight and the distribution of weight after the removal of e.g. the battery bank, one of the engines or a number of smaller pieces of equipment have changed significantly. Precise knowledge of these parameters is essential for the stable and safe placing of Sokol on land in the exhibition area.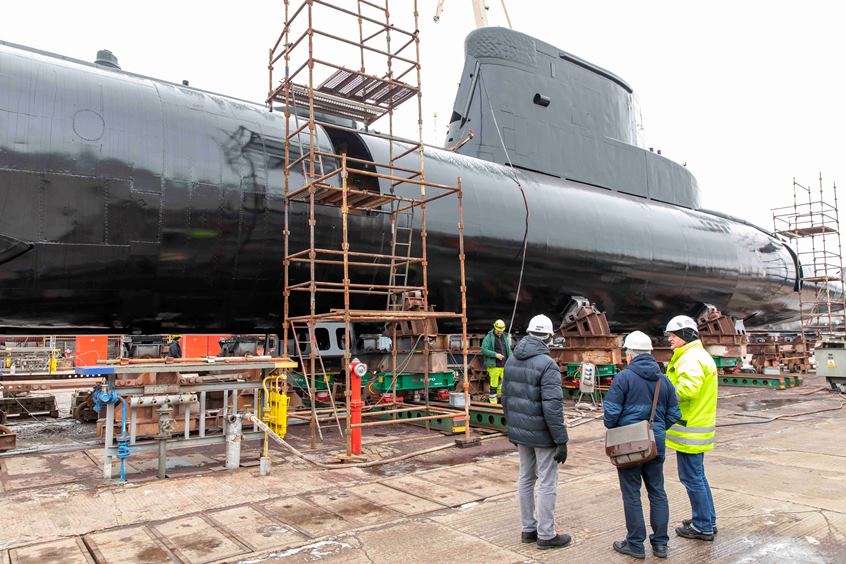 A hired, specialised company lifted the hull of the ship by several centimetres using eight hydraulic cylinders. The actuators, which are at the same time an integrated system of electronic dynamometers, make it possible, after summing up, to show both the total mass and to precisely determine the current centre of gravity, changed in relation to the ship in service.
After the ship is lifted synchronously and the readings stabilise for a few minutes, it is possible to precisely determine the total mass as a sum of individual dynamometers.
The weighing of the ship showed that its weight according to the readings is 375 300 kg. The reading from the instruments will be corrected according to appropriate formulas, which in turn will make it possible to accurately indicate the distribution of weights, which is important for determining the pressures that the hull will exert on the ground. The new centre of gravity will also be determined. The indicated reading will also be corrected by subtracting the weight of any supports that have been lifted with the hull.
It is estimated that the weight of the hull alone is approximately 350 tonnes.
rel. PortalMorski.pl