Coey Viking and Cooper Viking: reliable propulsion teamed with reliable support
For platform supply vessels, reliability will take you a long way. Add reliable support, and you are all set. Steerprop offered both as Remontowa Shipbuilding set out to build Coey Viking and Cooper Viking for Viking Supply Ships.
Viking Supply Ships, based in Sweden, has been servicing the offshore industry since 1974 in Arctic waters for customers such as Shell, Statoil and Hydro.
"Our expertise is managing harsh environments that often entail ice in some form. In these conditions, reliability is key", explains Lars Holmberg, Technical Director at Viking Supply Ships.
Today, the fleet comprises five vessels. The latest additions to the fleet are Coey Viking and Cooper Viking, delivered in December 2020 and April 2021 respectively. Although these vessels are not icebreakers as such, they need to manage in any conditions that may include ice.
Viking Supply Ships turned to Remontowa Shipbuilding, where Radoslaw Wolski was in charge of the project of building these ships. Solutions and equipment that are environmentally sound was a priority right from the start. Both Coey and Cooper can run on LNG, which substantially reduces CO2 emissions. Both vessels are also equipped with hybrid battery power supply systems, which further reduce emissions, and gives significant savings in fuel consumption as well.
Reliable azimuth propulsion
When the time came to order the propulsion system, Wolski turned to Steerprop, a company he knew very well from previous projects: Steerprop has also delivered propulsion to other Remontowa Shipbuilding projects such as platform supply vessels like Siem Tiima, Siem Pride and Siem Symphony.
For Coey Viking and Cooper Viking, Steerprop delivered two SP 35 CRP main propulsions units to both ships.
"Steerprop's expertise in azimuth propulsion for ice going vessels is highlighted once again with these projects, where we can support Viking Supply Ships in their operations", says Juho Rekola, Director Sales & Project Management.
Two benefits stand out with the CRP propulsion (Contra Rotating Propellers). As the supply vessels transits to platforms, the energy efficiency is extremely high. The other benefit is efficient ice management that's needed for instance in situations where the vessel must dock at a harbour with lots of ice rafts.
"We have been very happy with Steerprop's propulsion. The system is very user-friendly with the electronic control system where every propulsion parameter can be observed in real time", says Wolski.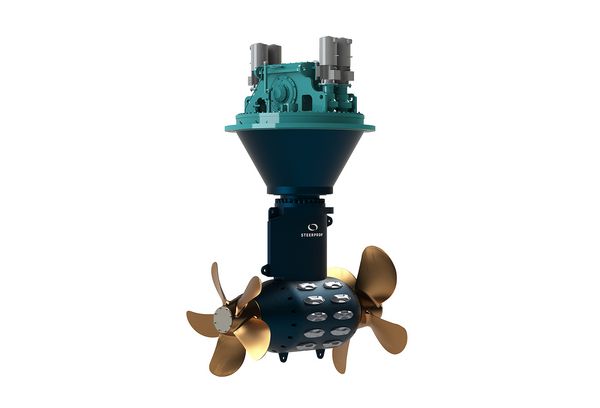 Reliability is key
Building a vessel is a huge project, where excellent planning and reliable partners are needed to secure that both timelines and budgets are kept. The over 10 000 monitoring points in ship building projects this size requires meticulous project management.
"There is a lot to manage and keep track of and one delay can impact everything else. To keep the schedule, it's very important to have reliable subcontractors who deliver the solutions exactly when we expect them", Wolski explains.
Reliable propulsion takes you a long way. However, support from the supplier is also important. Wolski appreciates the attitude of the Steerprop team in this respect.
"The technicians are both helpful and skilful, and they know their equipment through and through. It's a pleasure to work with them."
Lars Holmberg at Viking Supplies Ships shares the same opinion.
"Reliability is not just about the propulsion system working as it should. The attitude of the service organisation is just as important, and in this respect, I really appreciate Steerprop. The service guys are extremely solutions-oriented and smooth to work with."
The crews at Coey Viking and Cooper Viking seem to agree.
"The crews tels me that the vessels have worked like a clock ", says Lars Holmberg.
Quick Facts
| | |
| --- | --- |
| Vessel type: | Platform Supply Vessel |
| Classification: | DNV ICE-1C |
| Built by: | Remontowa Shipbuilding |
| Owner: | Viking Supply Ships |
| Main propulsion: | 2 x SP 35 CRP |
| Power per unit: | 2,200 kW |
More information about Steerprop CRP solutions.
rel.steerprop.com